They're an extension of home cooking that can bring a boost of flavor to meats, seafood and vegetables that can't be accomplished in an oven or on a stovetop. A Brinkmann Smoke'N Grill can bring out the best in your favorite summer meals and give a depth of savory flavor to those winter feasts. Once you have the Brinkmann smoker and grill set up, it will be ready for you to use all year long with little maintenance.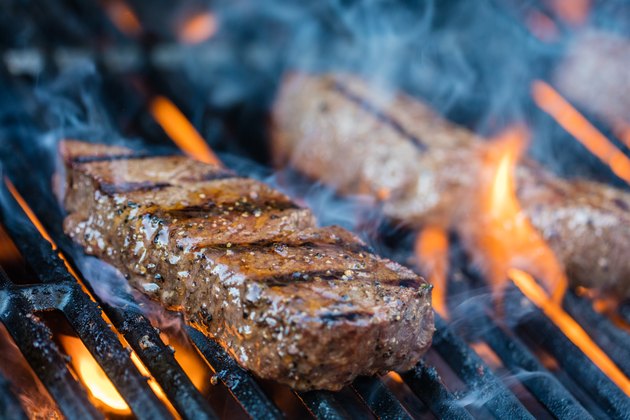 credit:
Instants/E+/GettyImages
The Smoke'N Grill charcoal smoker is one of the easier to use on the market. Its vertical design allows it to smoke a few cuts of meat or pans of vegetables at once and have them turn out moist and packed with the essence of the flavored wood you choose. The Brinkmann charcoal grill instructions are decidedly simple compared to other smokers. Once the grates are in place and the nuts and bolts secure on the legs, door and handle, the smoker is ready to be cured. This will protect the finish of the exterior of the smoker and remove any chemical odors from the factory, including the paint and sealant used for the lacquered exterior. It isn't harmful, but it could affect the taste of your debut dish cooked in the smoker.
Curing A Brinkmann Smoker and Grill
To cure the Brinkmann smoker and grill for the first time, remove the water pan and the charcoal pan. Coat the interior with vegetable spray, making sure to get the nooks and crannies of the grates. Put an even amount of charcoal in the pan and spray it lightly with lighting fluid. Light it and let it burn until the charcoal briquettes are covered in a light-gray ash. Return the water pan and the domed lid. Check the temperature of the smoker throughout this process. It should hover around "Ideal" for the two hours this will take. Let the smoker cool down naturally to end the curing process.
Once cured, the smoker is ready to rock your favorite grill meals. Fill the charcoal pan and light the briquettes. Once the coat of light ash is on the charcoal, add a few good-sized chunks of the flavoring wood onto the hot coals. Place the water pan on the lowest brackets above the charcoal and fill it with water once it's snug in its position. Only fill it to about 1 inch below the rim of the pan so you don't have spillage that can affect the heat of the smoker. You can now load the Brinkmann Smoke'N Grill. Put the first grill grate in and put the thickest or largest item on that for best results. Place the second grill on the upper brackets and place the last food items there. Try not to remove the lid or open any doors for the first two hours. Check the charcoal and water every two hours and add to those as needed.