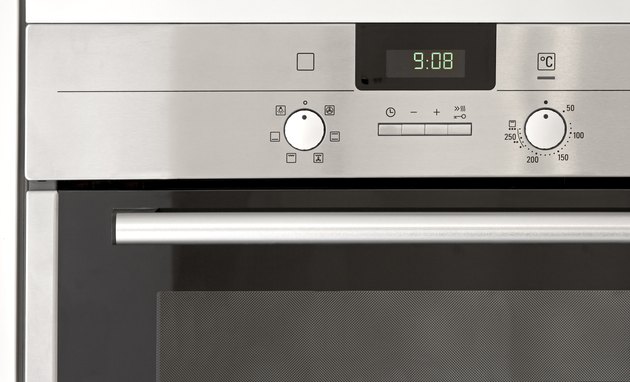 If you're having GE stove clock problems or wondering how to set time on GE stoves, you're often given an easy solution. But sometimes, issues can crop up from things like circuitry problems. The only way to find that out, of course, is to set the clock and see what happens. For modern ovens, there are four different ways to set the time.
4 Ways to Set Time on GE Stove
Method 1: LCD Touchscreen Clocks
Touch the screen to "wake" it up, then press "settings" and tap "clock." The screen will now display on-screen directions for setting the clock. Simply follow its commands.
Method 2: Electronic Models with "Clock" or "Set Clock" Pad Press the "clock" pad; some models will need to be pressed twice, so if it's non-responsive, try again by pressing twice. Depending on your model, you'll either have to hit the number pads to enter the time or use the +/- pads to toggle to the right time. Press "start," and then it will set the time as displayed.
Method 3: Electronic Models without "Clock" or "Set Clock" Pad Press and hold both the + and – pads simultaneously for three seconds. It may blink to indicate it's ready to be changed. Use the +/- pads to toggle the numbers so it's the correct time. Press "start," and now your correctly set time will display.
Method 4: Digital Clocks Push in the center knob of the "minute timer," then turn the knob in either direction to get to the right time.
Other Clock Problems
In a digital world, it's easy to use a smartphone as a portable cooking timer — and doing so may help you realize that your oven clock is running slow. This is a known issue, and it can happen with static interference, surges or "noise" on electrical lines in your residence, causing the clock to go a little wonky.
To solve this issue, simply unplug the range for a minimum of 10 minutes, then plug it back in. Your clock time will need to be re-entered, but hopefully it should have resolved the slow timing issue. If not and your stove is under warranty, then contact GE.
"Locked Door" Flashing On GE Oven
If you've got "locked door" – or, as it happens, "LOC DOOR" – blinking on your range or oven clock screen, there are two most likely culprits. One, you may not have completed a full self-cleaning oven cycle and must run the whole cycle start to finish for the door to function normally again. Or, two, you may have accidentally engaged "Control Lockout," which is a handy safety feature for parents.
If you've misplaced your user manual to find out the specifics for your range, GE has all their manuals online for downloading. In the manual, you can get specific instructions for whether you need to override a manual switch or a motorized switch.
If none of the manual-advised steps help, you may need service. Be aware that self-cleaning ovens can have their computer circuitry baked by overheating, over time, so if you're out of your warranty period, opting to manually clean your oven could avoid strangeness from things like misbehaving clocks and door locks.
---
Steffani Cameron is the daughter of a realtor and interior decorator mother and a home contractor father. Steffani is a professional writer with over five years' experience writing about the home for BuildDirect and Bob Vila. Raised with a mad love for decorating, Steffani gave up her Art Deco apartment to travel and work remotely for five years. She's in love with experiencing traditional decor around the world, including stays in Thai teak plantations on the Mekong River and cave homes in Turkey.
View Work