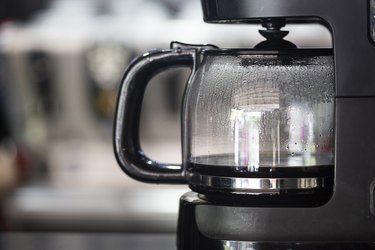 The smell of coffee brewing is often linked to early mornings, long hours or cold winter days. For many, it's the liquid strength they need to conquer the day and get off on the right foot. You can imagine how disconcerting it would be to go to your coffee maker to fill your cup and realize that the magical brew never brewed at all.
If your Cuisinart coffee maker won't brew, there are a few troubleshooting options to look at before throwing it in the trash. The problem could be anything from calcium buildup to faulty wiring, and a simple examination of your machine could give you the answer you're looking for.
Cuisinart Coffee Maker Troubleshooting
If you've completed the brew cycle yet still find the carafe empty, there could be a few options that may be leading to this problem. A great place to start is the owner's manual that came with your coffee maker. There's a troubleshooting section where it will identify a potential problem and then give you an option on how to fix it.
Some of these fixes could be as simple as adjusting the basket to make sure it's sitting straight or removing then replacing the carafe or pot to make sure it's sitting in the center of the drip dispenser. Many coffee makers have a small valve that withholds the flow of coffee if the pot isn't centered to prevent coffee from dripping out onto your countertop. A simple verification and making the necessary adjustments could be all it takes to get your coffee pot full again.
Alternate Coffee Maker Issues
If the problem with your coffee maker isn't fixed by the flip of a switch, it could be a bit more difficult to determine. Before taking any extreme measures, make sure you've checked the obvious solutions like whether the coffee machine has been plugged in, if there's water in the reservoir chamber and if there are coffee grounds in the basket. If all of these simple solutions check out, continue examining your machine for the bigger problem.
Check the wiring to see if everything is in order. It's possible that it has become faulty or been compromised and no longer functions. This could be noticeable by the on/off light no longer illuminating once the machine is plugged in and turned on. If this is the case and your Cuisinart coffee maker has no power, consider hiring a professional to replace the power cord or even the on/off switch. Don't attempt to replace it yourself because dealing with electricity is always best left to professionals.
Cleaning Your Coffee Machine
Calcium buildup due to the type of water you use could also be a reason why you're not seeing any brew end up in the carafe. The buildup can usually be cleaned out with a toothpick or dissolved by running the coffee maker with vinegar in the water reservoir. If you successfully clean your machine and decalcify it, ideally you should run a couple of cycles with only water before adding coffee grinds.
Constant upkeep of your Cuisinart coffee maker can prevent many minor issues. Regular cleaning and decalcifying won't only leave your coffee maker in top shape but will give your coffee the best and most accurate taste.