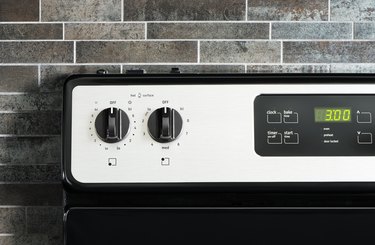 Ovens come in various styles and models with many different types of settings and set-ups to choose from. Your oven can be a built-in model or a typical oven/stove set-up and one great feature that comes with most ovens is the built-in clock.
These clocks are practical not only for telling the time, but they are also used to set times for when the oven is in use so you do not overcook or undercook your food. While these clocks can be very beneficial, they can also be a pain when working incorrectly. Sometimes, a Whirlpool stove clock turns off or even stops telling the correct time altogether.
Whirlpool Oven Clock Setting
The simplest way to figure out how to initially figure out your Whirlpool oven clock setting is by looking in the owner's manual. They will give you easy instructions as to how to set your clock and give you quick troubleshooting methods if you find yourself having basic problems.
Setting your clock on basic models is extremely simple. Locate the button labeled "Clock" and give it a push. This should make the numbers flash, allowing you to navigate the numbers using the buttons next to little arrow symbols pointing up or down. These arrow buttons are also used to set the temperature on the stove on certain models. Once the desired time has been obtained push the "Clock" button once again to lock in your time. Make sure to see if your clock runs on a 12-hour system or 24-hour system to prevent any further changes.
Whirlpool Oven Clock Reset
It may also happen that you wake up one morning after a terrible storm and notice that your oven clock is flashing and does not show the correct time. The clocks reset due to issues with loss of power. Since there is no battery power to keep the clock functioning all the time, even without power, the clock will constantly reset whenever the flow of electricity has been interrupted.
If you notice the clock resetting, but there has been no loss of power, then it may be worth calling an electrician to look at your oven's wiring. It is possible that the Whirlpool oven clock keeps resetting because the wires leading to the power supply are either faulty or are in need of being replaced. Make sure to have a professional deal with any electrical problems you think your Whirlpool oven may be experiencing.
Smart Appliance Settings
Newer appliances may come with Wi-Fi connectivity, allowing you to be in charge of your oven at all times, even when you are not home. Poor connections or incomplete settings may be the reason why the clock on your smart Whirlpool oven keeps resetting, according to Whirlpool. It could also be a reason behind why the clock turns off completely. When troubleshooting your smart appliance, the first thing to make sure is that your Wi-Fi gets turned off then turned back on. If there are problems with the appliance's connectivity, the app should ask you to reconnect your appliance and possibly input your information once again in order for it to function normally.