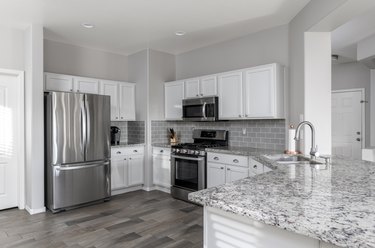 Finding the model or serial number on a Whirlpool stove is essential if you want to purchase accessories or need a repair. The model number will tell you a variety of things about your stove, from the brand to the type of parts, while the serial number can tell you the location, year and even week it was made. You can find the Whirlpool model and serial numbers on a sticker or tag on the appliance, but to the age of your appliance, you'll need a Whirlpool serial number decoder.
Whirlpool Serial Number Decoder
Whirlpool serial numbers follow a specific pattern. The first digit indicates where the appliance was manufactured – if, say, your serial number starts with a "C," that means it was made in Clyde, OH. The second digit will tell you the year it was manufactured – 0, for example, means the fridge was either made in 1980 or 2010, while Y means it was built in 2009. The third and fourth digits will provide you with the week the appliance was manufactured – if these numbers are 25, then your appliance was manufactured in 25th week of the year. And finally, the fifth through ninth digits indicate the manufacture order for that week.
Because Whirlpool manufactures under many different names, including Kenmore, Estate, Roper, Frigidaire and newer Maytag appliances, this code may work for those brands, as well.
Understanding Whirlpool Model Numbers
A Whirlpool model number indicates a variety of things, such as the type of appliance, the type of door on the appliance, the "suite" level and even the amount of features. Model numbers also list the capacity, key features, year the product was launched and the color of the appliance. Having the model number will help you determine not only, say, your Kenmore appliance age, but also what specific parts may be needed if you have to do a repair.
Most Whirlpool model numbers begin with "W," which stands for Whirlpool. But if it begins with the letter "G," then this means that product is part of the Whirlpool Gold appliance series. Those appliances that begin with "C" mean the unit is part of the commercial appliance line. Other initial number codes include "R" for refrigerator, "O" for oven, "G" for a gas range and cook top and "E" for an electric range and cook top.
Whirlpool Serial and Model Numbers on Stoves and Appliances
Whirlpool makes numerous ranges, cook tops and wall ovens. All model and serial numbers are listed together on a sticker or tag. To locate the model and serial numbers for ranges, look behind the broiler or storage drawer. For cook tops, you will find the model and serial number underneath the unit. On a wall oven, it is located just inside the oven on the rim.
Here are where you can find the model and serial numbers on other Whirlpool appliances:
Refrigerator: Inside, on the wall, typically towards the front and top of the appliance
Dishwasher: Inside the washer on the rim
Food Waste Disposer: On the bottom of the unit
Microwave: Inside the oven towards the front
Washing machine and dryer: Inside on the rim