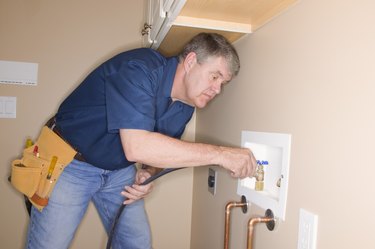 Liquid propane, or LP, is a useful fuel for household applications, but the pressurized tanks in which it is stored must never be placed inside the home because this creates a safety hazard. The proper way to install a propane heater or stove is to run the gas line from the tank's location in a yard or garage through the wall and to the appliance in the home. Every gas line and appliance needs to be carefully checked for leakage following installation and prior to use.
Step 1
Attach the flexible copper piping to the LP tank by screwing the fitting on the end of the piping tightly to the opening at the top of the tank.
Step 2
Drill a hole through the house wall using a drill bit long enough to pass all the way through the wall. Drill bits of this size can be rented at most tool rental businesses. Position the hole as close to the appliance that will be using the propane as possible, so most of the pipe run is outside rather than inside.
Step 3
Feed the copper pipe through the hole. Flexible copper pipe is bendable but only to a point. Be careful not to bend it so sharply that you crimp or crease it because this will create a leakage hazard.
Step 4
Attach the pipe to the LP appliance. This may be done in a number of ways, depending on the type of appliance and its fixtures. You may attach the pipe using a threaded fixture and Teflon tape. You may also flare the pipe with a pipe flaring tool, and fit it over a nipple on the appliance.
Step 5
Test the connections at the tank and appliance by applying soapy water around the connection and slowly opening the tap on the LP tank. If you see any bubbles, close the tank immediately and re-do the attachment.
Step 6
Prevent heat loss around the pipe's entry point to the house by filling the hole around the pipe with expanding spray foam insulation.