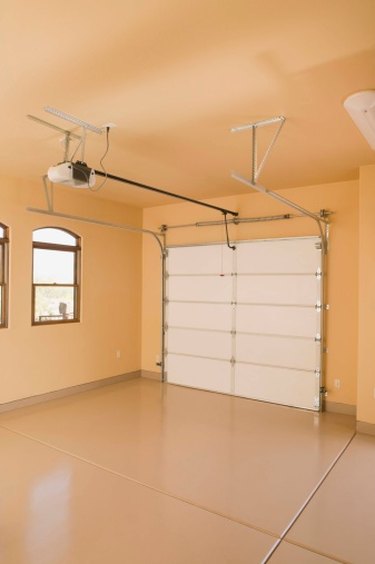 Just like logging into a computer or email account, garage door openers require a user authentication before you can open them with a remote control. Most manufacturer-provided remotes come pre-configured for the system's receiver panel and garage door opener. But if you need to replace a lost or damaged remote, you'll need to program it with the garage door opener system's passcode. Find out how you can program your Clicker remote control to work with your garage door opener.
Receiver Panels with Code Switches
Step 1
Look at your garage door opener's receiver panel and write down the receiver's manufacturer on a piece of paper.
Step 2
Locate the system's code switches. The switches will be aligned in several columns with two or three rows. The switches might be located under the panel's keypad or on the opener itself.
Step 3
Write down the switch positions of each column -- in sequential order -- starting from left to right. Write down a"1" if a switch is at the top of a column, a "2" if a switch is in the center of a column, and a "3" if a switch is set to the bottom row.
Step 4
Put your clicker into programming mode by pressing and holding the "1" and "3" buttons until the remote's LED indicator light flashes red.
Step 5
Press the opener button different times for different brands of openers. Press it once to program a Stanley opener; twice for Multi-Code openers; three times for Linear and Moore-O-Matic openers; four times for Sears, Chamberlain and Lift Master openers; five times for Genie openers with nine columns of code switches; and six times for Genie models with 12 columns.
Step 6
Enter the code sequence you wrote down earlier, using the numbered keys on the remote control.
Receiver Panels without Code Switches
Step 1
Locate the "Smart" button and corresponding indicator LED light on your garage door opener's panel unit.
Step 2
Choose a button on the remote control to control your garage door. Press the button and hold it until the "Smart" LED indicator light on the receiver unit flashes.
Step 3
Press the "Smart" button to finish programming the remote.