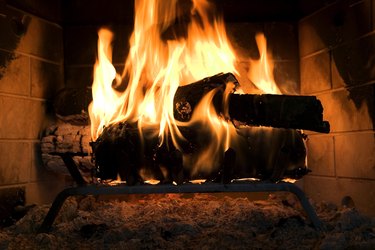 During the winter months fireplaces provide homes with both heat and comfort. Heat, though, can often be lost not only via drafts coming down a flue but also from small gaps and crevices between a fireplace and its insert, a decorative barrier added for safety. If you discover this type of situation in your home, you'll need an appropriate sealant that closes these gaps.
Adhesive Strips
Available at many hardware and home improvement stores, small rolls of fiberglass-based stripping can be cut to size and applied in noticeable gaps between an insert and the masonry on the outside face of a fireplace, underneath the insert. This fiberglass material is especially formulated to be highly heat resistant and very dense so that the flames of large fires and resulting smoke are prevented from exiting the mouth around the gaps. Depending on how much the fireplace is used, the fiberglass strips will need to be replaced every time the fireplace is scheduled for maintenance cleaning in order for the striping to maintain its effectiveness.
Alternatives
Generally speaking, fiberglass sealant strips are the most common sealant used in a variety of fireplaces in homes and residences. However, some home and property owners may opt to use refractory cement in lieu of fiberglass. Refractory cement is highly heat resistant and virtually eliminates the need for replacement; however, should you go this route, it's best not to use the cement directly between the masonry and the insert. Once applied, the sealed cement makes removing the insert for routine maintenance nearly impossible. Still, cementing over the gaps in the masonry itself before installing the insert reduces lost heat.
Metal Plating
In some homes, small strips of metal plating are used both to seal an insert and to add more of a decorative touch to a room. Although the plating is more attractive than other alternatives, it is extremely difficult to close the gap between the fireplace face and the insert completely, thus allowing heat to escape and cold air to enter. The gaps can be sealed off between the metal plating and the insert using an adhesive-like caulk, which with some work can be removed prior to cleaning.
A Word of Caution
Sealing the gaps with fiberglass and insulating your home is a do-it-yourself job that can easily be handled in an afternoon. Removing the insert and the sealant is not. Because of local fire laws and building codes, it's highly advised -- in fact it may be unlawful not to do so -- to hire a chimney sweep, a certified professional who is well versed in proper insert removal. Should the insert be damaged or not properly reinstalled, the potential for fire hazard increases.