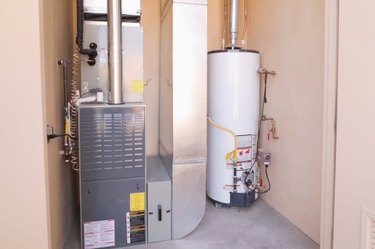 The fan limit control switch on a furnace regulates when the blower will come on or shut off. In many models it also has a built-in safety control for the burner to shut off at higher temperatures if the burner's inner control malfunctions. The switch is one of the easier devices and attachments on a furnace. The average consumer can both locate and set the fan limit control switch with ease.
Step 1
Open up the access panel on the furnace. Most slide off or unhook for easy access.
Step 2
Look for the fan limit control switch encased in a small rectangular box. It should be located near the top of the furnace within the panel.
Step 3
Slide the cover off the control switch or lift it up. Inside you'll see the switch itself sticking out along with a dial with temperature settings.
Step 4
Set the markers to the appropriate settings for your furnace. Check with your owner's manual for suggested temperatures. For a general guide, set the two lowest ones (from the furthest left) to 100 and 130 degrees to control when the fan comes on and goes off. The third marker should be set around 200 degrees as a safety shut-off for the burner.
Step 5
Pull out the white switch to reset the limit control to automatic. The blower should respond to the new settings within half an hour.