Stainless steel is one of the most common materials used in home kitchens. Dent and stain-resistant, it maintains its shiny appearance for years and may even outlive the cook. Lightweight stainless steel is often used for bakewear but for stove-top use, look for high-quality, heavy pans labeled as 18/8 or 18/10 gauge.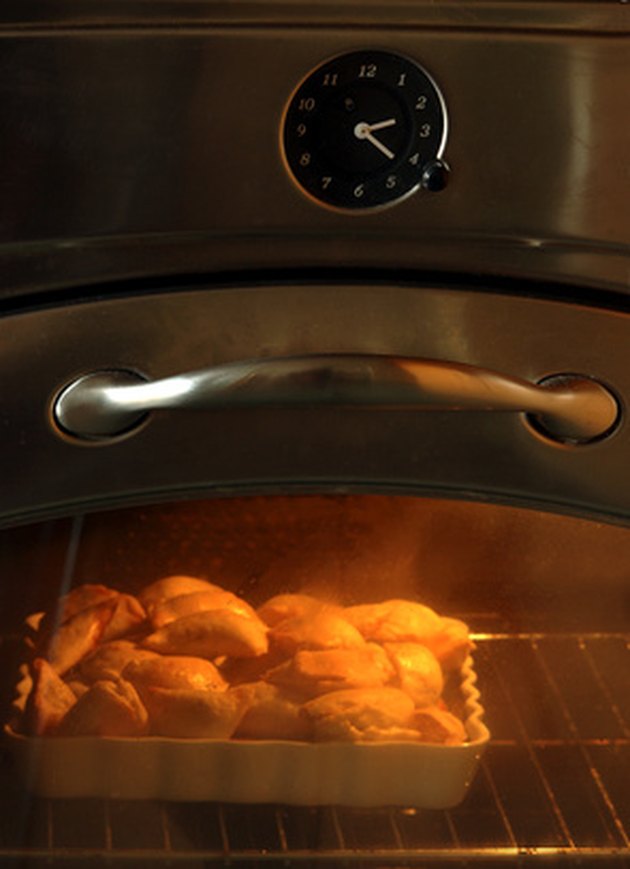 Stainless steel pots and pans are safe for sauteing, simmering and boiling on the stove top, and most stainless steel pans and cookware are safe for the oven. Pans made from a heavier grade of stainless steel are the most durable, and the least likely to be damaged in the oven. Occasionally, the handles of a stainless steel pot are not oven-safe. Always read the manufacturers label to be sure.
Stainless steel is used for a variety of kitchen implements, including pots and pans, bake ware, bowls and mixing spoons. The metal is very hard and holds up to heavy wear and repeated washings. Stainless steel is relatively inexpensive and when combined with a nickel alloy, it doesn't react to foods. A rainbow hue on the pan is caused by high heat. Scrub it off with a cleaner made for stainless steel.
Stainless steel is one of the most hygenic materials with which to cook because of its hard, non-porous surface. Wash stainless steel pots and bakeware in soapy dish water or in the dishwasher. Fill the pot with water and simmer it for 10 minutes to remove burnt-on food. Do not use abrasive cleansers, which can scratch stainless steel, or leave it soaking overnight. Don't store food in stainless steel pans, as the food may corrode or pit the surface.
High-quality pans are more likely to have oven-safe handles and lids. Check to ensure that the handles are attached with rivets or screws. One drawback to stainless steel is that it is a poor conductor of heat. It may heat slowly, cook unevenly or create burnt spots. Good stainless steel cookware has a heat diffusing base of aluminum or copper to eliminate this problem. Stainless steel has a tendency to stick, especially if used for breads and cakes in the oven. Grease and flour pans thoroughly before use.