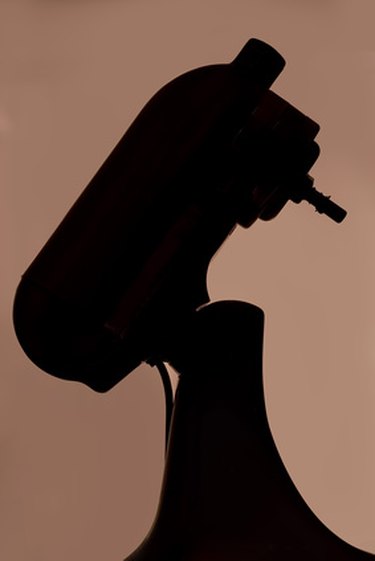 KitchenAid has been synonymous with quality stand mixers like Artisan and Epicurean since the 1920s, when they were sold door to door and at home parties. The company, a division of the Whirlpool Corporation since 1986, consistently produces mixers that are rated in the top five of all mixers by "Good Housekeeping" and "Consumer Reports."
Considerations
The Epicurean has been taken out of production by the KitchenAid Company. The mixer can still be acquired from some traditional retailers and various online sources, but color choice and accessories will be limited to what is available. Artisan comes in a selection of 25 colors, with the option of purchasing many companion accessories like the pasta or sausage maker. Consumers have reported that the Epicurean is very noisy.
Features
The Artisan and Epicurean both have 10 speeds. The Artisan has a tilt-up head; you must take out the beater bar to remove the bowl from the Epicurean. Beyond these details, the Epicurean is a larger, more powerful mixer than the Artisan. Both mixers are 14 inches deep, but the Epicurean is three inches higher and wider at 16 1/2 inches high and 11 inches wide. The Epicurean weighs 30 pounds to Artisan's 25.
Function
Epicurean comes with a 6-quart bowl and puts out 475 watts of power. This powerful motor and large bowl will yield 6 loaves of bread, 11 dozen cookies or 10 pounds of mashed potatoes. Artisan has a 5-quart bowl and uses 325 watts of power. Artisan's 5-quart bowl will yield up to 4 1/4 loaves of bread, 9 dozen cookies or 7 pounds of mashed potatoes at one time.
Accolades and Warnings
The Artisan mixer was rated the number-one home mixer by the Good Housekeeping Test Kitchen, "Consumer Reports" and Cooking.com. While both mixers, if purchased new, will come with KitchenAid's one-year warranty, should replacement be necessary, only the Artisan could be replaced with an exact match. Consumers using the Epicurean would be offered an alternative from KitchenAid's current line.