Designed for stove top use, glass percolators make coffee by heating water until it propels up a tube repeatedly, saturating ground coffee. As the water moves through the pot, it becomes brewed coffee. Glass percolators have an advantage over metal percolators, because you can see when the coffee is to your desired darkness. Unlike an electric percolator, which shuts off by itself when it's finished, you must watch a glass percolator the whole time to prevent over-brewing or damage to the pot.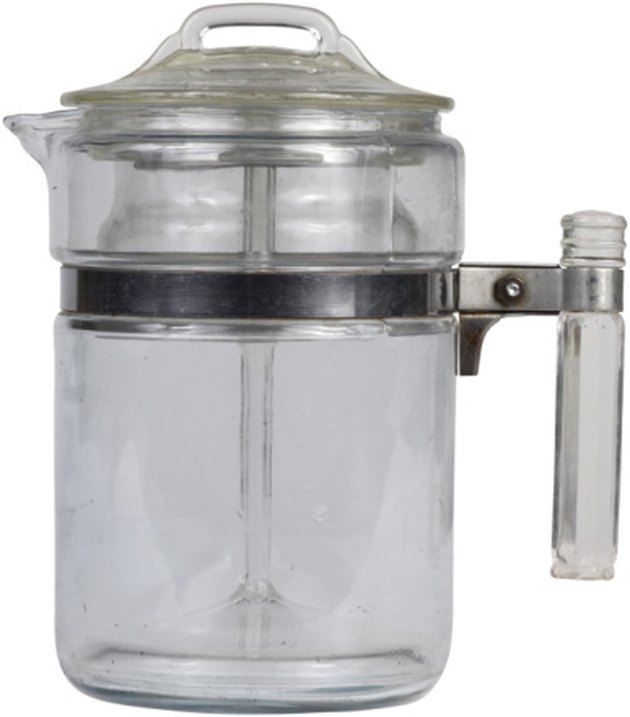 Step 1
Remove the lid, the filter basket and pump. Add 6 ounces of water for each cup of coffee you want to make to the percolator pot.
Step 2
Place the filter basket and stem into the pot so that the stem extends to the bottom of the pot and the basket sits on top.
Step 3
Remove the top from the filter basket. Add 1 to 2 tbsp. coarsely ground coffee for each cup of coffee to the filter basket. For the best result, grind it yourself just before brewing.
Step 4
Place the top on the basket, and put the lid on the pot.
Step 5
Set the glass percolator on a stove top burner. Turn the burner on and set to medium-low heat.
Step 6
Watch the coffee brew. When the coffee reaches your desired color, turn off the heat. Carefully remove the filter and stem from the pot before serving the coffee.