Tip
If you are using the converter for a large appliance like a refrigerator or washer, buy a heavy duty one that can handle the large loads and constant use.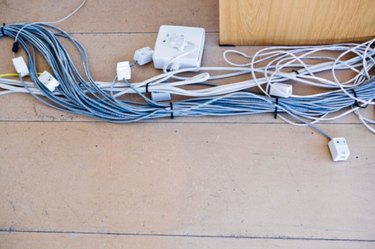 While most of the world uses 220-volt electricity, the United States uses a combination of 220v and 110v appliances. The lower 110v wiring is used for most standard appliances and devices, such as computers, TVs and table lamps. The 220v wiring is used for some refrigerators, washers and dryers. These appliances also often use an outlet plug configuration that is different than standard plugs. It is possible to use a 220v machine on a 110v line, however; all you need is a voltage converter.
Step 1
Purchase a 110v to 220v voltage converter. These are a little less common than 220v to 110v converters that many Americans must purchase when using their electronic devices abroad. Some converters will be call up/down converters, which means that they can convert 110v electricity for 220v appliances and vice versa. One of these may be used as well.
Step 2
Plug the voltage converter into the wall. If you are using an up/down converter, look for the switch -- usually on the back -- that selects the input voltage. Set this to 110v.
Step 3
Plug the machine into the outlet on the front of the voltage converter.
Step 4
Flip the power switch on the voltage converter to the "On" position.
---
Darby Stevenson began writing in 1997 for his high-school newspaper, the "Alsea Valley Voice," which won him statewide awards for Best Feature Article and Best Personality Interview. He holds a Bachelor of Arts in international studies and a Bachelor of Arts in religious studies from the University of Oregon.