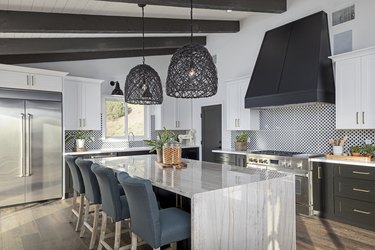 The demands of chest freezer wattage vary among different types of freezers (standalone chest models vs. refrigerator/freezers), their sizes and their ages. But knowing a ballpark range for chest freezer wattage requirements can help you determine how much you're paying for this appliance's electricity costs each month. And if your freezer is an older model that has greater wattage demands, you may want to put pen to paper (or keystroke to spreadsheet), compare newer models and determine if it's time for an upgrade.
Chest Freezer Wattage
An average standalone 15-cubic-foot frost-free chest freezer uses 335 watts and a 20-cubic-foot chest freezer uses 350 watts, according to Minnesota 's Otter Tail Power Company. But this is just an average; your appliance may use more watts. Some chest freezers, for example, may use 500 watts. And if you have an older model, it may use more electricity than this.
As a comparison to chest freezer wattage, the Otter Tail Power Company notes that an average 16- to 18-cubic-foot frost-free refrigerator/freezer uses 400 watts and a 10- to 15-cubic-foot non-frost-free refrigerator/freezer uses 300 watts. Some refrigerator/freezers, however, may use 700 watts.
Watts Vs. Kilowatt-Hours
The U.S. Department of Energy notes that the federal government requires most appliances to have a black and yellow EnergyGuide label affixed. One of the figures on this label is an appliance's estimated yearly electricity use in kilowatt-hours (kWh). A kilowatt-hour isn't the same measurement as wattage; 1 kWh is the equivalent of using 1,000 watts during a one-hour period.
Electricity Usage Monitors
An electricity usage monitor is a handy little device that allows you to measure exactly how many watts of electricity your freezer is using without relying on industry averages. These devices are particularly useful to measure the wattage of an appliance that doesn't run constantly like your freezer. Because a freezer cycles on and off to keep food frozen, it doesn't pull a consistent amount of wattage.
To use the monitor, unplug your freezer and plug the handheld electricity usage monitor into that same electrical outlet. Then, plug the freezer cord into the monitor to see the wattage displayed on the digital readout.
Cost of Electricity
Because utility companies charge for electricity by the kilowatt-hour, which varies from company to company, you can calculate how much it costs to run your freezer when you know your chest freezer wattage. Divide the chest freezer wattage by 1,000 and multiply the result by the number of hours that the freezer is in use each month. (The Otter Tail Power Company estimates the average usage of a freezer is 300 hours per month.) Multiply that result by the price per kWh of electricity to figure the monthly cost of operating your freezer.
Your electrical company or power cooperative publishes its costs for electricity per kWh, typically on its website. The company may also publish an electrical appliances power consumption chart for an accurate reflection of these values in your location.