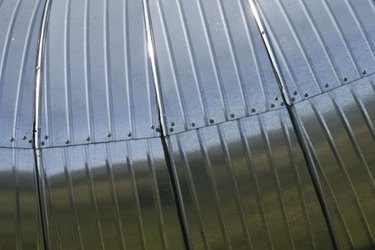 Operating with natural or propane gas, your Coleman furnace blower's electric fan draws cool air in, heats the air, and then propels the warm air through ducts to distribute heat throughout your home. The air returns to the furnace as cooler air. The furnace burner looks like a row of tubes in which the correct amount of air and fuel mix in order to burn effectively. Your Coleman furnace also has two high temperature limit switches to protect it from overheating by turning off the power to the ignition controlling the gas valve. You must reset the Coleman furnace switch to get your furnace operating again. (See Reference 4 #3 & #5, and Reference 5)
Step 1
Turn the Coleman furnace system switch to the "Off" position on the electric service panel.
Step 2
Locate the manual reset switch near the left side of your furnace blower. Your Coleman furnace has an upper limit switch for manual reset and a lower limit switch for automatic reset.
Step 3
Press the reset button, which you will find in the middle of the limit switch. Use this manual reset button when the furnace burner will not operate. (See Reference 1 pg 4 "The Furnace Controls and their Function/Important" & Reference 4 # 3)
Step 4
Turn the system switch to the "On" position.