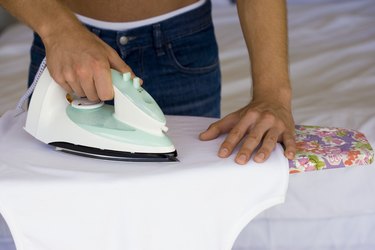 Rowenta is part of the European company Groupe SEB which counts KRUPS, Tefal and Calor among its brands. Groupe SEB is present in more than 120 countries and partially took over Moulinex in 2001. Rowenta is one of the largest manufacturers of steam irons in the world. Troubleshooting a Rowenta iron that won't steam is simple.
Step 1
Make sure there's enough water in the tank if the iron won't steam. Fill the tank up.
Step 2
Check that the iron is set to a steam setting. Some of the settings are dry and won't create steam.
Step 3
Set the temperature dial to the shaded setting which represents steam. You'll see a little dark cloud-type icon with raindrops as opposed to a white cloud with a stripe through it. The dark cloud represents moisture (steam), and the white cloud with the stripe through it represents no steam.
Step 4
Allow the iron to heat up for a while and to emit steam for a couple of minutes while pressing the extra-long burst button a few times. That should get rid of any impurities which can cause blockages. Try this if the iron hasn't been used for a while and steaming is intermittent.
Step 5
Iron horizontally. Steam is only generated when the iron is horizontal.
Step 6
Use the maximum steam setting when the iron is set to its maximum temperature setting.
Step 7
Let the iron get to a high temperature before expecting steam. If the soleplate isn't hot enough, the water won't turn to steam and will in fact drip, spit or leak from the soleplate. Some Rowenta irons have an anti-drip system, which will turn off the steam when ironing at a low temperatures. Turn the temperature up, if needed.