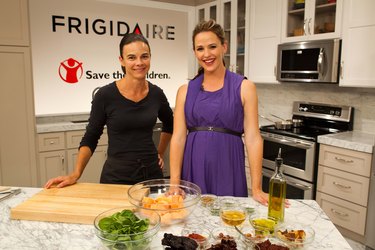 Frigidaire ovens look nearly the same across the models available in the Gallery and Professional collections. In fact, the company chooses to publish single owner's manuals for multiple oven models that are similar across these collections. One way to differentiate between ovens in the Gallery and Professional collections is how homeowners perceive and use the appliance. Gallery ovens are more energy efficient and simpler to operate. Professional ovens offer more controls and selections, and also support more robust, high-temperature cooking. The functional differences might matter the most to the average cook or master chef. Some of the differences are also cosmetic. Professional series ovens are more expensive than their Gallery counterparts.
Color and Finish
Homeowners commonly want similarly colored and matching appliances in the kitchen, including the refrigerator, dishwasher and cooktop/range. Frigidaire offers a choice of three colors for ovens. Gallery models are available in black or white, as well as a stainless steel finish. Professional models are only available in stainless steel. Gallery collection ovens, then, can be matched to existing black or white as well as stainless steel non-Frigidaire appliances, while the Professional oven is only appropriate in kitchens with stainless steel appliances, if creating a matching and cohesive collection is important to the consumer. -- (see References #3, "Colors Available")
Preheating and Cooking
Preheating the oven prior to baking is a necessity. Both oven models can actually preheat the oven to cooking temperature in less than six minutes. The only noticeable difference is the labeling of the push button on the control panel. Frigidaire calls the preheat feature on its Gallery oven models "Quick Preheat," but Professional oven models are labeled "PowerPlus Preheat." The 30-inch Professional model has a dual-fan convection heating system, while its Gallery counterpart has a single-fan system, as do the 27-inch Gallery and Professional ovens.
Controls and Selections
Frigidaire ovens feature pushbutton electronic controls on a keypad. The difference is in the selection of settings that are available. In the product literature and specifications, Frigidaire describes these controls as "Express-Select" on Gallery models and "Pro-Select" on the Professional models. However, these labels do not actually appear on the control pad. Instead, you see the presence of extra buttons on the Professional series that help cooks and chefs more precisely control cooking factors. The "My Favorite" button appears on Professional models and allows users to save complex cooking times and temperatures as a sequence. This is beneficial if you frequently cook on the same settings. -- (see References #3, "Feature") -- (see References #4, Page 10, "Model A" >>> "10 My Favorite" button) -- (see References #4, Page 21, "Setting My Favorite")
Pizza Button
Everyone wants to cook the perfect pizza at home, but that's difficult for some to accomplish without a traditional brick pizza or commercial restaurant pizza oven. The Gallery models include a "Pizza" button, but Frigidaire does not include this in Professional models. You can differentiate cooking temperate and times based on whether you are cooking a frozen pizza or fresh pizza made from scratch.