The most difficult part about purchasing a mattress should be choosing the best option, not that your Sleep Number remote won't work. If you're having problems with your remote, don't fret; it's a relatively easy task troubleshooting your remote. The best thing about society today is that, although your problem might seem like the end of the world, there's already someone out there that's experienced the same issue.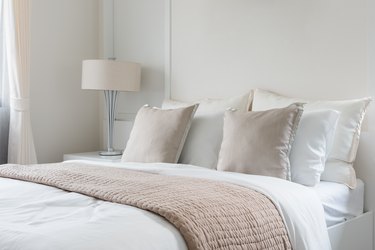 Using Your Remote
For Sleep Number 360 Smart Bed remotes, you must insert two AA batteries and follow the remote's Guided Setup process. Always make sure your bed is plugged in and all of the connections are secure.
Remote Won't Inflate Or Deflate My Bed
The reason why Sleep Number beds are so coveted is because of the inflating and deflating options on your mattress. If your remote won't allow you to do either, that could be for two reasons: Loss of power connection or a kinked hose. If the Firmness Control System isn't running while you try to inflate or deflate the bed, the Firmness Control System is not getting power. If so, push the power cord all the way into the wall and at the base of the Firmness Control System. Simple enough, right? Don't worry, because everyone's had that moment where the fix is to simply make sure your device is fully plugged in.
Another option could be that you have a loose or kinked hose connection. Depending on which bed you purchased, the instructions are different. On a Sleep Number 360 Smart Bed, check to make sure the hose is not lined at the mattress and base of your bed. You don't have to open your bed to check the hose connection. If you purchased a FlexFit smart adjustable base, all you have to do is check the hose connection at the pump. On a 2016 Sleep Number bed, the hoses are at the head of the bed, and you have to open your bed up to inspect the hose. Now, if you recently changed the bed's air chambers, you probably just installed them upside down.
Operating Wrong Side Of The Bed
Nothing says "waking up on the wrong side of the bed" quite like actually waking up on the wrong side of the bed. If your bed is inflating and deflating on the wrong sides, the left and right hoses are not properly installed. Don't worry, you're not the first person to mix up your lefts and rights. All you have to do is adjust the hoses.
Remote Display Not Working
If the display light on your remote has dimmed or is not working, it's time to change the batteries. To replace the batteries, all you have to do is make sure they are inserted properly. The battery cover can easily be popped both on and off when replacing the batteries.