It could be something as simple as a misunderstanding between the programmer and the thermostat. It could be something serious, such as a malfunctioning heat pump. No matter what has brought you to the panel, performing a Braeburn thermostat reset can often help you figure out the issue before you have to call a technician to fix your heating and cooling problems.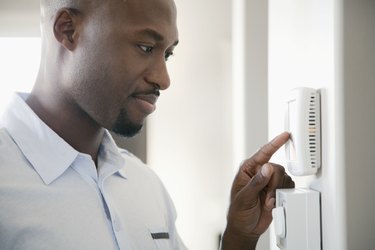 Where to Start
To do an overall Braeburn thermostat reset, you'll need to familiarize yourself with the components of the panel. The Braeburn thermostat manual can be found online. The longtime air conditioning and heating company has an extensive library online and has done a thorough job in attempting to answer user's questions. The informative manuals are broken down to answer specific questions so you don't have to read through multiple sections to find what you are looking for.
Basic Troubleshooting
Open the panel and the battery compartment. If the low battery warning is flashing on the display, change out the batteries. Low batteries can sometimes cause issues, even if the thermostat is hard-wired to the wall and HVAC unit. The fan can give an indication of issues in the unit. If the fan runs continuously, put the unit into auto mode on the thermostat panel so that it only runs during the heating or cooling mode. If it runs intermittently, then it more than likely is in recirculate mode and is pushing hot or cold air in the home around the house while the unit is off.
Further Efforts to Fix the Unit
Once you have gone through the Braeburn thermostat reset basics and are still having problems with getting the unit to heat or cool your home, you may need to dig a little deeper for more serious issues. If the check status indicator light blinks on and off, the heat pump may be the culprit. This may require a technician. If the display screen is blank, the Braeburn thermostat may have blown a fuse. Check the circuit breaker for any tripped breakers. Familiarize yourself with the Braeburn thermostat manual for further troubleshooting if the machine isn't turning on. It can tell you how to set the current time and the day of the week so that the thermostat is turning on and off at the time you originally programmed it for. Sometimes this simple step is overlooked.
Braeburn Air Conditioner Is Not Cooling
When the room is warmer than it should be, you could just need to reset the thermostat to get the machine back up to its optimal speed. If your Braeburn air conditioner is not cooling, turn the thermostat to the "off" position. If the thermostat comes with batteries, remove them. On the front of the thermostat is a reset button. Press that and return the batteries to their compartment. Put the system back into "cool" mode and try to run the air conditioner.