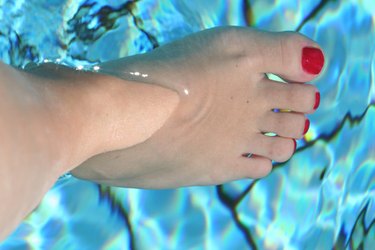 Coleman Spas are programmed to filter twice a day. The first cycle starts six minutes after the spa is turned on, and the second cycle runs 12 hours later. The default filtering is for two hours, but you can change this to suit your needs. Filtration time can be anywhere from one to six hours. Sometimes, after you've set a custom setting, like a longer-than-default filtration period, you may want to revert back to the factory setting. You can do this by resetting the Coleman Spa controls.
Step 1
Set a custom filtration period. Turn the spa off at the time of day that you'd like one of the filtration cycles to begin. Then turn it back on again after 30 seconds. Press the "Temp Up" button and then the "Jets" button.
Step 2
Press the "Temp Up" button again to choose a cycle. The display will read "F1" to indicate a one-hour filtration, "F2" for two hours, "F3" for three, and so on.
Step 3
Reset the Coleman Spa controls again. Turn the spa off, wait 30 seconds and turn it back on again. The controls will be reset. Plus, the custom settings you set in the previous step will be cancelled and the filtration will revert to the factory control. The first filtration will start six minutes from when you turned the power back on and last for two hours. The second filtration will run 12 hours later.