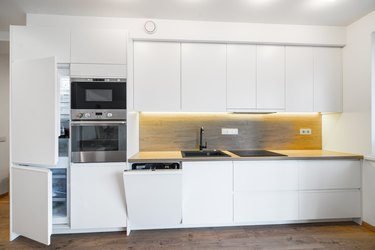 Microwaves do more and cook better than ever in a wide variety of sizes — from tiny 0.5 cubic-foot ovens for cramped dorm rooms up to giant 2.2-cubic-foot over-the-range ovens meant to accommodate whole families. When scouring listings for them, you'll find their power rating, inner volume and maybe the outer size, but finding the microwave weight can be a little less forthcoming. So, what does the average microwave come in at?
Understanding Microwave Sizes Guides
There are four basic sizes when you're buying a microwave, as described by Good Housekeeping, and the larger capacity it has for cookery, the bigger and heavier the unit is. The microwave size chart comprises four categories:
Compact: This is your standard uni-dorm deal or tiny office helper and includes all microwaves between 0.5 cubic feet up to 1 cubic foot.
Mid-Size: These are 1- to 1.5-cubic-foot microwaves.
Full-Size: This is where you start getting into over-the-range and wall-installed microwave or combo ovens, and they're 1.6 to 2 cubic feet in size.
Extra-Large: These monsters are anything over 2 cubic feet in size. (For comparison, a full-size standard range or wall oven is 4 to 6 cubic feet.)
Microwave Options
Microwaves vary depending on their usage and configuration. Weight will vary depending on how large or heavy the cabinet for the unit is versus its inner capacity. Plus, bells and whistles people seek can pack on the pounds. It may have multiple cooking technologies, there can be an oven rack, child-locking features and more, but most of these are electronic and weigh little to nothing.
Unit style tends to dictate the weight more than other factors. Microwaves can be over-the-range, often serving as a hood vent as well as additional cooking oomph in a kitchen. There are countertop, over-the-counter and built-in versions. There are now microwave drawers, which are proving fantastic for installation at a lower height. Weights vary within categories as well.
Sample Microwave Weights
Countertop: As a comparison, both a Sharp and GE 0.7 cubic-foot countertop microwave weigh approximately 21 pounds. Most compact countertops vary between 20 and 30 pounds.
Over-the-Counter: As these come with additional brackets, they usually weigh the same as countertop models.
Countertop: GE's 1.4 cubic foot offering is 34 pounds and Samsung's 1.1 cubic-foot version is around 35 pounds.
Over-the-Counter: Sharp's 1.5-cubic-foot microwave is specifically designed for over-the-counter use and comes in at around 55 pounds.
Drawer Oven: Sharp's 1.2-cubic-foot drawer oven tips the scale at 79 pounds, while a same-size drawer oven from Bosch is 50 pounds and Viking's under-the-counter drawer oven is approximately 86 pounds.
Over-the-Range: Whirlpool's 1.7-cubic-foot model ships at 55 pounds, compared to Frigidaire's 1.8-cubic-foot entry at 62 pounds.
Countertop: Several models checked by major brands, all between 1.6 and 1.8 cubic feet, weighed between 40 and 50 pounds.
Built-In: The Wolf 1.6 cubic-foot built-in oven is 80 pounds, and the Café 1.7 cubic-foot one is 75 pounds, but both ship closer to 100 pounds.
This size category — over 2 cubic feet — tends to be over-the-range microwaves. Café brand's is 2.1 cubic feet and weighs in at around 58 pounds while several other national brands all varied between 65 to 80 pounds.
Final Words
As you can see, weights vary wildly depending on style and size. Instead of guestimating a weight by class, look online at microwaves you're interested in. The "specifications" fine print usually gives the weight and "shipping weight," since the protective materials and packaging add to the tally.