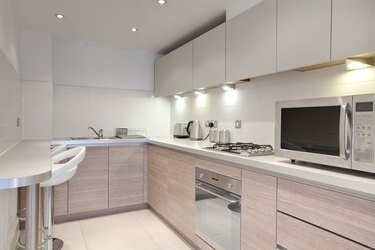 Microwave ovens tend to come in a few broadly standardized widths — typically 24, 27 and 30 inches, or up to 36 inches for an over-the-range model, according to Factory Builder Stores — but those widths aren't exact and they can vary in height and depth as well. That means replacing one isn't as simple as looking up a hypothetical microwave sizes guide.
How to Measure a Microwave
There are several measurements you'll need to take when you're replacing a microwave. The exterior size of the microwave is clearly important, but a microwave is more than a metal box. It's an appliance that generates heat and moisture, which means you'll also need to measure the space it occupies to make sure there's adequate ventilation for your new unit.
You'll also want to measure its interior size to be sure that your replacement offers at least as much space for heating and cooking food. The capacity of a given microwave in cubic feet is always listed, but they can differ in their interior shape; some are taller, while some are wider and flatter. If you've had issues with some foods or favorite dishes not fitting into your current microwave, you might want to look for one that would be a better fit for what you heat in it.
Measuring a Countertop Microwave
The simplest microwave to replace, of course, is one that simply sits on your countertop. You really only need to measure if you're buying a significantly larger unit and want to be sure there's enough clearance behind, beside or above it for ventilation. Measure either the old microwave or the space you want the new one to occupy, and then add the manufacturer's recommended allowance for ventilation. If it will fit, you're good to go.
You might also choose to measure your old unit if you're downsizing and want to find a newer model that offers similar capacity in a physically smaller size. In that instance, taking the microwave's internal measurements may be more meaningful.
Measuring a Built-In Microwave
With a built-in model, the physical dimensions of your new microwave — the width along the front of the microwave, the height from top to bottom and the depth from front to back — are more important. They must match the space of your enclosure, plus the added space recommended by the manufacturer for ventilation. Measuring your old microwave is less important in this case than measuring the enclosure, whether it's an over-the-range microwave, an in-drawer model or an island or cupboard-height built-in.
You'll also need to double-check that the "trim kit" designed to make your microwave fit neatly into its space will physically match the opening in your cabinetry. If not, you'll either have to alter the enclosure to suit the microwave or rely on custom millwork — rather than the manufacturer's trim kit — to make the new unit fit.
Once you've narrowed your choices down to models that will fit into your space, measure their internal capacity against the space (in cubic feet) and dimensions of your old microwave. Choose one that offers at least as much space or other advanced features you lacked on your previous model.
Other Measurements to Make
Aside from the raw size of the microwave, there are some other factors to consider. You'll need to look where the power cord leaves the microwave and measure to ensure that it will reach the outlet in your enclosure. If not, your choices are to install a new power outlet or go back to the store for a different microwave. If there are adjoining appliances or cabinetry, differences in how the door mounts to its hinges may determine whether the microwave can open all the way.
Finally, in the case of over-the-range microwaves, you'll need to know where the built-in hood fan vents. The top of the microwave is the default, but you may have to vent yours out the back instead. In that case, an adaptor is required, which may or may not be sold with the microwave.