Things You'll Need
Barbecue tongs

Baking soda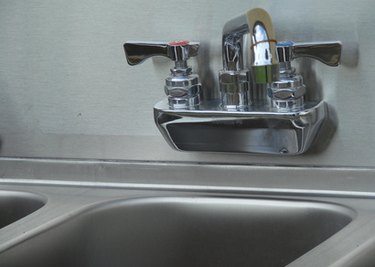 The Waste King 2600 garbage disposer's permanent magnet motor can spin at a high 2600 RPM (revolutions per minute). The engine produces 1/2 horsepower. The device includes a removable splash guard, and is safe for septic tanks. Problems with the Waste King can include it jamming up and not turning back on again. These kinds of problems can be corrected by following some troubleshooting steps.
Step 1
Un-jam the disposer if you hear humming, or buzzing when you turn it on. Unplug the disposer from the outlet, or flip the circuit breaker switch to the "Off" position. Remove the stopper and splash guard and insert a wooden broom handle into the disposer. Then try to un-jam the turntable by hooking the broom handle end onto a cutter and pushing. Try different directions until the disposer is free, then remove any residue, like seafood shells, using barbecue tongs.
Step 2
Reset the Waste King SS2600 once the turntable moves, and if the disposer won't turn on again. Press the red button near the power cord. It may be tricky to see it depending on installation, but it's on the opposite side of the power cord. Turn the disposer back on and try the job again with plenty of water.
Step 3
Insert the correct kinds of foods into the disposer. Hard materials like coconut shells, large bones, bottle caps, and seafood shells will cause the waste disposal to jam. Add lots of water to dispose of fibrous materials like small corn husks after grinding. Avoid drain cleaner, and non-food items like china, utensils and aluminum foil.
Step 4
Insert the included stopper in the sink and fill the sink half full of water if the disposer starts to smell. Add a box of baking soda and allow the mixture to drain slowly. The odor problem will be corrected.
---
Patrick Nelson has been a professional writer since 1992. He was editor and publisher of the music industry trade publication "Producer Report" and has written for a number of technology blogs. Nelson studied design at Hornsey Art School.