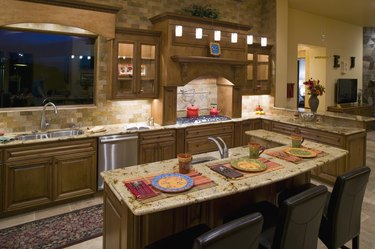 GE Profile dishwashers are a range of high functioning and sleekly designed appliances for the residential kitchen. The controls are hidden in the door jam and the facade comes in stainless steel, colored enamel or can be customized to match the surrounding cabinetry. Sounds on the dishwasher are used as cues to the owner of cycle status or that something is interrupting the proper functioning of the dishwasher that requires your attention. According to the GE troubleshooting guidelines for Profile dishwasher, there are several common causes for beeping that are either normal or easily remedied.
Step 1
Stop the dishwasher from beeping at 30-second intervals by closing the door completely after opening it mid-cycle to add an item or soap or whatever. Simply press the door until it catches the latch to halt the beeping and resume the current cycle.
Step 2
Deactivate the normal double beeping to indicate the end of a cycle by depressing the "Heated Dry" button five times in succession within three seconds. You can re-activate this normal double beep notification by the same process.
Step 3
Allow the door to close completely and latch, and stop any beeping by sliding the lower and top rack all the way in to the dishwasher cavity and repositioning any dishes or utensils that may be blocking the door from closing snugly and the programmed cycle operating normally.
---
A communications professional, D.C. Winston has more than 17 years of experience writing and editing content for online publications, corporate communications, business clients, industry journals and film/broadcast media. Winston studied political science at the University of California, San Diego.