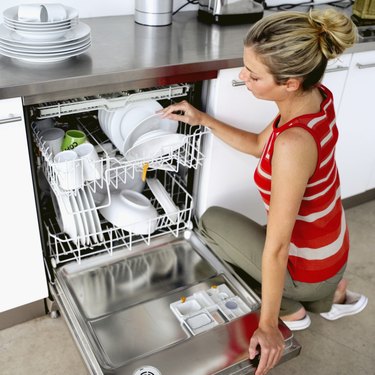 Dishwater residue is a fairly common occurrence, and several things can cause it. Even the newest dishwashers may leave residue, and it might have nothing to do with the actual dishwasher function itself. However, there are things you can do to prevent, limit or completely remove dishwasher residue during every washing cycle.
Detergent Residue
Modern phosphate-free detergents are the main culprits when it comes to detergent residue. After every wash, many leave a slight whitish residue behind. After several washings, the residue becomes caked on and leaves a noticeable white tint to your dishes. Some dishwasher detergent brands are better than others, and either minimize residue or do not leave any. Once residue is present, however, the only way to remove it is by hand scrubbing or scraping.
Hard-Water Residue
Hard-water residue comes from non-softened water from your hot water tank. Non-softened water leaves a white tint on dishes, but no amount of scrubbing will remove it. Only by wiping a small patch of the dish with vinegar or lemon juice will you be able to ascertain whether the white residue left is hard water or detergent. The slight acidic action of the vinegar or lemon juice removes hard-water stains, but they have no effect on detergent residue.
Greasy Residue
If the dishes feel greasy when they come out of the dishwasher freshly washed, you are dealing with a greasy residue. There are two main reasons for this: either the detergent is not an effective grease remover, or the hot water inside of the dishwasher, either from the hot water tank or the dishwasher's heating elements, is not hot enough. Boosting the hot water temperature on the water tank may solve the problem, and a second wash cycle may be needed for the dishes. A preventive measure of running the dishwasher empty with a full load of detergent also removes the residue inside of the dishwasher.
Streaking and Spotting Residue
If you have spotting or streaking on your dishes, that may be a sign you need a rinse agent. Many modern dishwashers recommend a rinse agent to prevent spotting or streaking, and without one, your dishes will never be crystal clear or streak-free. The next time you do a dishwasher load, add a rinse agent. If the dishes come out spot- and streak-free, the problem is solved.