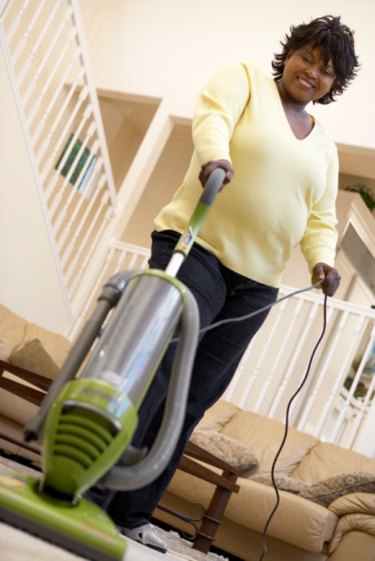 The Bissell Company designs and manufactures vacuums and deep cleaning machines. Its Bissell ProHeat ClearView is a carpet deep cleaning machine. The carpet cleaner sprays water and cleaning solution on the carpet, scrubs it into the carpet and sucks the dirty water and cleaning solution out of the floor. The machine will not work properly if it no longer sprays the carpet.
Water Tank Is Empty
One of the main reasons why the machine stops spraying is that the water tank is empty. Remedy this by refilling the tank with clear warm water. Lower the machine's handle by stepping on the handle release bar and lowering it to the floor. Remove the tank from the machine by lifting the handle and pulling it from the machine. Carry the tank to the sink. Remove the lid, and fill it with warm water. Put the lid back on the tank, and place it in the machine. Lower the handle to lock it in the machine.
Clogged Filter
The machine will stop spraying water if the filter becomes clogged, which will prevent the machine from getting damaged because of the clog. Fix this by cleaning the flow indicator filter. To unclog it, unscrew the flow indicator cap on the front right side of the foot of the machine. Remove the red rotor and the white filter. Rinse all three parts under clear water, and put them back into the machine. Prevent clogs from happening by cleaning the flow indicator cap every time you use the machine.
Broken Pump Belt
Another reason the water might not be spraying is that the pump belt that helps power the pump that shoots the water out of the machine is broken. You can replace these belts by purchasing a replacement belt directly from the Bissell company or a generic belt from a hardware store. To replace the belt, open the belt access door on the top of the foot of the machine. Remove the soleplate and the black brush arm that cover the brush rolls. To replace it, wrap one end around the silver motor shaft and the other end around the drive pulley.
Pump Prime
The Bissell machine has a pump that helps pump the water out of the machine. When the pump loses prime it will no longer spray from the ProHeat ClearView. To remedy this, turn the machine off, and let it sit for several minutes. Turn the machine back on, and depress the trigger to try to spray the water again.