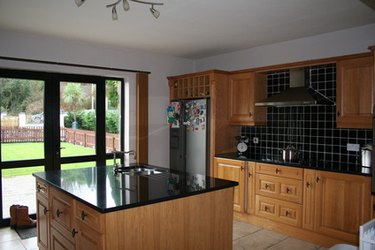 GE refrigerators are a popular brand and come in a variety of models. However, like all appliances, the GE refrigerator can run into problems. When the refrigerator stops responding to the temperature knob or quits making ice, you can reset the unit. Resetting your unit will clear the appliance and get it back up and running. Performing this task will take you less than 10 minutes and can will save you the expense of calling a technician for repair.
Step 1
Pull your GE refrigerator out from the wall. You may want to use this as an opportunity to clean the dust and dirt out from behind your unit.
Step 2
Find the electrical cord going into the wall's electrical outlet. Unplug your refrigerator from the wall outlet and let it sit for a little under a minute.
Step 3
Plug your GE refrigerator back into the wall outlet and listen for it to start up again.
Step 4
Open the freezer to the GE refrigerator and find the small shutoff switch on the icemaker. Turn it from "On" to "Off." Turn it back to "On" after 30 seconds.
Step 5
Push the shutoff arm at the top of your icemaker up and down three times to reset it.