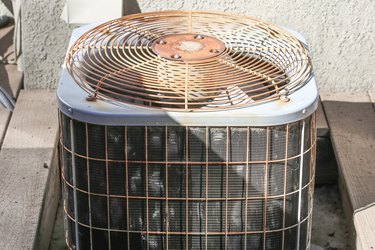 SEER (Seasonal Energy Efficiency Ratio) refers to "the relative amount of energy needed to provide a specific cooling output," according to the U.S., Department of Energy's website. The higher the SEER rating the more efficient the air conditioning system. Increased efficiency translates to substantial savings in both energy usage and expense to a homeowner.
According to the Home Improvement Helper web site, in the 1980s the average SEER for an air conditioner was 6. In the 1990s the DOE mandated a minimum SEER rate of 10 for all new air conditioners sold in the United States. Since January 23, 2006, all air conditioners manufactured in the United States must have a Seer of 13 or higher. Because equipment manufactured prior to that date may still be sold and installed, homeowners should ask about the manufacture date of the equipment they are considering purchasing.
Step 1
Find the manufacture's name. The manufacture's name is usually located on the outside of the cooling unit.
Step 2
Locate the unit's model number and serial number. For heat pumps, that information is located on the data tag attached to the back or side of the unit. For window air conditioners, the data tag may be located at the top of the unit in the cool air exhaust port or on the frame behind the grill or on the inside of the unit.
Step 3
Find a certified dealer for the manufacturer of a newer unit, using the Internet or the Yellow Pages. Contact the dealer with the model and serial number of your unit and ask for the SEER rating for that unit.
Step 4
Contact the manufacturer directly for older units or if there is no certified dealer in your area. You can find contact information using the Yellow pages or the Internet. Make sure you include the model and serial number in your inquiry.