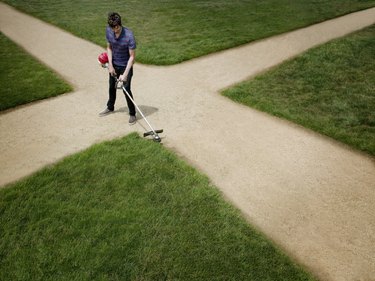 If your Ryobi trimmer has a jammed line, debris in the line spool, or even if you just need to perform regular cleaning you will need to be able to remove the line assembly in order to complete your task. While most of these trimmers have complex motor systems, Ryobi designed the line assembly to quickly and easily come off so that the user can perform regular maintenance. There are two general types of line assemblies: those with a small knob on the end of the spool, called a bump knob, and those that have a flat plastic cover over the spool, called a spool retainer.
Bump Knob
Step 1
Turn off the Ryobi trimmer. If the trimmer has a battery attachment, press on the latches on each side of the battery to remove it. Lay the trimmer on a stable surface where you can work.
Step 2
Hold the spool of line in one hand and rotate the bump knob counterclockwise. You will feel the knob push up when it is free.
Step 3
Remove the knob. The seal and spring underneath the knob will usually come with it. Grab the reel and pull up.
Spool Retainer
Step 1
Let the trimmer come to a complete stop. Turn it off. If the Ryobi trimmer has a battery pack, push the tabs on each side of the battery and remove it. Place the trimmer down on a table or the ground so that you can work on the line end.
Step 2
Locate the two opposite tabs on the sides of the spool retainer. The spool retainer fits directly over the spool on the very bottom of the trimmer. Press in on the tabs and pull the retainer away from the unit.
Step 3
Pull up on the old spool to remove it.