Tip
If you have mites in pet food, throw away the contaminated pet food. Then wash the inside and outside of all pet food and water bowls as well as any container that was storing the food. Make sure to use hot soapy water for this cleaning.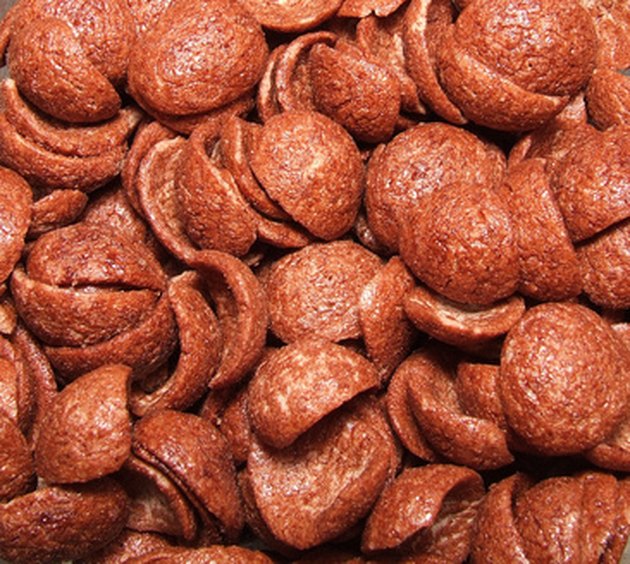 Grain mites are often called food mites. They are small creatures that can be found on different foods including dried fruits, pet food, cereal and even cheese. Like many types of mites, grain mites prefer areas with high moisture content. These little brown insects can be found on the food source itself, as well as on counters and in cupboards. Although they are nuisance, you can luckily get rid of grain mites yourself with just a little bit of effort.
Step 2
Identify the food source for the grain mites. The most effective way to do this is to go package by package in your cabinets looking for the mites. Depending on your eyesight, you may want to use a magnifying glass to see them. Throw away any package of food that is infested. This will remove the food source, which will eventually kill the mites.
Step 3
Wash the inside of your cabinets with soap and hot water. Hot water will help kill the mites it comes into contact with. Be sure you are frequently rinsing out your rag under hot running water and adding more soap as you go.
Step 4
Vacuum the crevices inside the cabinets. Since mites are very small they can find their way into tiny crevices and be hidden from the initial washing. Use a crevice tool to vacuum up cracks and crevices in your cabinet and then dispose of the vacuum contents. If you have a canister vacuum, empty the canister into a sealable plastic bag, outside and pour talcum powder into it. If you have a bag vacuum, put the entire bag into a sealable plastic bag and then pour talcum powder in. Seal the bag and dispose of it.
Step 5
Return all the food to the cabinets. Wash all flat surfaces, such as counters, walls, floors and the refrigerator with soap and hot water, like you did the cabinets. Also, vacuum any cracks or crevices once again.
Step 6
Move any dried foods in your cupboard into food canisters. Choose canisters that have screw top or tight sealing lids. This will prevent future infestations.
---
Erin Ringwald began writing in 1998. She runs her own party planning business and helps with her husband's photography business. She's working on her Master of Education with a focus on elementary education and child development. Ringwald studied musical theater and later obtained a Bachelor of Arts in English literature from Wright State University.