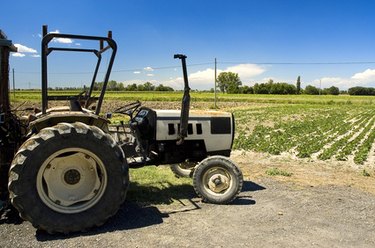 Multi G-134 hydraulic fluid is a multi-purpose fluid for hydraulic systems, wet brakes, various PTO clutch systems, differentials and transmissions in farm tractors. It creates a rust- and corrosion-resistant lubrication, and is slow to oxidize. It is a medium-duty oil, with good anti-wear properties. The specifications are the same or higher than those for many other oils, and it can be used as a replacement for several, including Ford Tractor M2C134B, M2C159B2, Stieger Hydraulic Transmission SEMS 17001, White Q17001 and Allis Chalmers PF-821XL.
Temperature
The 134 hydraulic oil is designed for use with an ambient temperature range of -5 degrees Fahrenheit or -20 degrees Celsius, to 120 degrees Fahrenheit or 50 degrees Celsius.
Gravity
The gravity of the 134 oil is 28, and the specific gravity at a 60-degree Fahrenheit temperature is .8872.
Flash/Pour Point
The flash point of 134 hydraulic fluid is the lowest temperature at which the fluid will vaporize, forming a mixture that can be lit in the air. Using the Cleveland open cup method, it is 400 degrees Fahrenheit. The pour point, or lowest temperature at which it will pour smoothly, is -39 degrees Celsius.
Viscosity
The viscosity of 134 hydraulic fluid at 40 degrees Celsius is 65.76, and at 100 degrees Celsius, it is 9.5. The viscosity at 100 degrees Fahrenheit is 305, while at 210 degrees Fahrenheit, it is 57.6. The viscosity index is 125. The Brookfield viscosity at -20 degrees Celsius is 4,870, while at -35 degrees Celsius, it is 48,500.