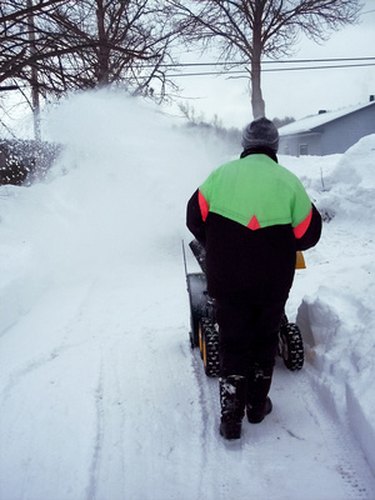 Briggs and Stratton Corporation is best known for producing small engines for outdoor power equipment. In 1953, the company revolutionized the lawn and garden industrial community by developing the lightweight aluminum engine.Briggs and Stratton engines are manufactured in partnership with several other well-known brands. The Craftsman 26-inch path, 208cc dual-stage snow thrower is an excellent example of these partnerships.
Displacement
The 208cc Craftsman engine is a 4-cycle, overhead cam (OHC) engine and does not require the mixing of oil and gas.
Capacities
The 208cc Briggs and Stratton engine holds 20 oz. (600ml) of oil and 2.3 qt. of unleaded fuel. The manufacturer recommends 5W-30 oil be used.
Starting
Depending upon installation and use, the engine can be fitted for electric start. Otherwise the engine is started manually by pulling the rope attached to the recoil starter. The Craftsman line of Snow Throwers is a prime example. Model 88970 is manual start; model 88691 starts electrically by pushing a button. Both models use the same 208 cc engine.
---
Based near Orlando, Florida, Giovanni Badalamenti has been writing professionally since 2010. His articles on cooking, local restaurants, fantasy sports and attractions have appeared in various online publications. Badalamenti is currently enrolled at Seminole State College in Lake Mary, Florida, pursuing an Associate of Arts in nutrition.