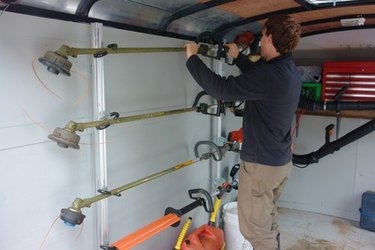 Your Yardworks grass trimmer is an invaluable yard grooming tool. As with any other machine with moving parts, normal wear and tear is expected over time. The trimming string will eventually wear down and break off. Replacement of this vital component is quick and easy thanks to the option of buying a pre-wound spool of trimmer string. The string is available online or in most standard hardware retailers. A Yardworks spool comes standard with 0.080 diameter string.
Step 1
Grip the cutter knob and turn it counter-clockwise to remove it. Remove any excess yard debris.
Step 2
Remove any excess line still wrapped around the previous spool. Take the spring off of the inner spool.
Step 3
Insert the spring within the replacement spool. Thread the replacement string through the eyelets of the outer hub. Place the replacement spool within the outer hub.
Step 4
Pull the replacement line through the slots of the outer hub. Reattach the cutter knob by turning it clockwise.