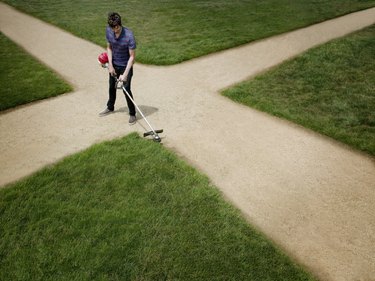 Removing the trimmer head from your Husqvarna trimmer will allow you to perform maintenance or install a new head. The only tool required is a small Allen wrench or punch tool of a similar size. The procedure is not exclusive to Husqvarna models, and the same steps can be taken to remove the head from most line trimmers. This makes it easy to keep your trimmer in top shape, allowing you to get the most out of your investment.
Step 1
Locate the gearbox near where the trimmer head and shaft connect. There will be a small hole in a protruding nut on the metal collar between the two pieces.
Step 2
Insert an Allen wrench or other object into the hole. Turn the head slowly while applying slight pressure to the wrench until it drops further down into the gearbox. It will now lock the gears and prevent the shaft from turning.
Step 3
Grasp the head of the trimmer and begin twisting. You may need to apply a bit of pressure, but the head should unscrew and come off easily.
Step 4
Perform any maintenance or prepare a replacement head for installation. You may need to use plastic spacers and adapters included with your replacement head to properly size up the fit.
Step 5
Reinstall the head or replacement head by screwing it down onto the shaft in the direction opposite of how it was removed. Tighten firmly.
Step 6
Remove the Allen wrench from the hole in the gearbox.