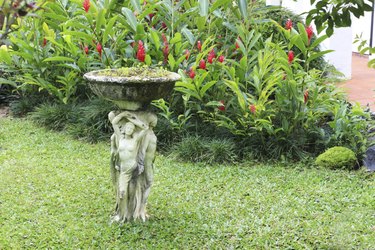 Long forgotten or brand new concrete birdbaths transform from bland to beautiful with a simple coat of paint to cover up the cold gray color. Exposure to outdoor elements and the intended avian use require special consideration so you end up with a lasting, safe paint job. The porous nature of concrete means the bare birdbath surface sucks up paint quickly, but proper surface preparation can limit paint absorption -- especially important when you paint designs on concrete.
Preparation
An old concrete birdbath likely has layers of paint, dirt and debris built up that must be removed so new paint adheres properly. Spray off dirt and debris with a garden hose and sprayer nozzle attachment, or a pressure washer. Allow the birdbath to dry thoroughly before painting. Scrape painted birdbaths with a painters' 5-in-1 tool to remove chipping paint. To completely remove paint, soften it with a heat gun and peel it off. Alternatively, brush on a chemical paint stripper and scrape off the softened paint after about an hour or the length of time indicated on the product label. Brush on one coat of masonry block filler, a latex-based primer that fills in porous concrete, to make the painting surface smooth. Most block filler primers are ready to use, but some require dilution with water before application.
Painting
Exterior grade paints hold up best to the outdoor elements and are best for birdbaths. You can use oil-based, latex or acrylic exterior paint. Oil and petroleum-based paints should not be used on the inside of the water basin where birds drink, but are fine for the basin exterior and pedestal base. Latex and acrylic paints are safe inside the basin after they fully dry. Brush-on type and spray paint are both acceptable for painting a birdbath. To avoid uneven or excess paint, dilute the paint with equal parts water for the first one to two coats. Apply the final coat with undiluted paint, using a dry brush technique in which you wipe most of the paint off the brush before painting. For any paint, allow each coat to dry fully before applying the next coat.
Sealer
A coat of sealer over the dry paint creates a layer of protection -- this can include additional UV protection, as well as guarding against damage. For example, if you accidentally hit the birdbath with a tool while gardening, the tool might chip off a bit of the clear coat without chipping the paint. Sealer also keeps the paint from getting dirty. All dirt collects on the clear coat, which can be wiped clean. Common sealant options include polyurethane and clear coat acrylic, both available in spray and brush-on options. Use only non-yellowing sealer to avoid an unwanted yellow tint. For added protection on concrete, use a two-part epoxy; it's made for concrete garage floors and designed to hold up against heavy traffic and spills. Allow the clear coat to dry for a full day before filling the basin with water -- some epoxies may require a longer curing period.
Ideas
Your birdbath paint job could be as simple as a plain white pedestal and bowl to complement other white garden ornaments. A coat of brightly colored paint makes a birdbath stand out boldly in the middle of a garden bed. If you have several garden features with a weathered or patina look, use multiple colors of paint to match a new concrete birdbath to the aged pieces. Start with a base color of white or gray paint and allow it to dry completely. Dilute three to five colors or different shades of colors with water in separate bowls. White, black, gray, dark green, light green and umber work well for a patina effect. Blot or squeeze the watered-down paint onto the birdbath from a sponge, but do not apply a single color over the entire birdbath. Alternate colors to fill in the birdbath, resulting in a layered look typical of weathered concrete.