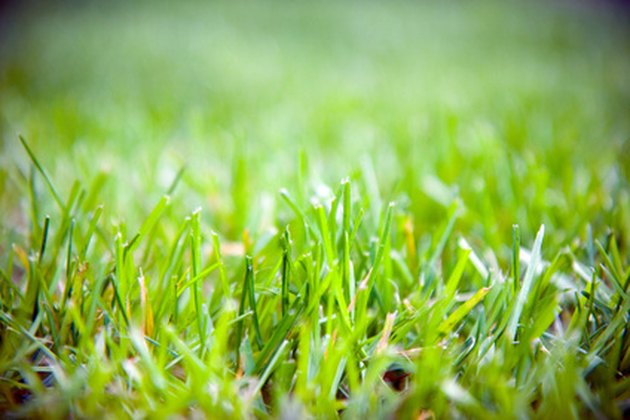 Most homeowners crave a healthy lawn. Weed & Feed (a generic product) or Turf Builder (by Scotts) both fertilize and control your weeds. Weed & Feed contains fertilizer and chemical weed killer. Turf Builder fertilizer may build a thicker turf and crowd out weeds, without the added weed-killing chemicals.
Fertilizer 101
According to Master Gardener Jerry Baker, a fertilizer will provide the essential three elements -- nitrogen, phosphorus and potassium -- not traditionally found in the soil. Next, the product nourishes the grass, builds strong roots and replenishes the soil.
Weed Killer 101
A chemical weed killer is an herbicide used to stop weeds. Choose a weed-killing herbicide to treat the soil and stop the weed from germinating, or choose one that travels through and out the weed, post germination. You may purchase weed killer or fertilizer in dry form or as a liquid.
Comparison
All brands of Weed & Feed chemically kill weeds while adding the necessary nutrients to feed your lawn. Choose and apply this product in the spring if you are looking to save time and dollars, have no concern about the lack of phosphorus for your soil and do not need to eliminate crabgrass.
Scotts Turf Builder is simply a fertilizer. This product is safe to apply in any season and feeds the grass and nourishes the soil over several weeks. Choose Turf Builder over Weed & Feed if you want a healthy lawn, do not have a weed problem and require a kid- and pet-friendly product.
Considerations
Scotts also manufactures a Turf Builder with chemical weed killer, similar to a Weed & Feed. To decide whether to use a traditional Weed & Feed or Turf Builder with chemical weed control, you should know your grass type. However, the number of applications applied yearly will truly indicate which product is preferable, not the small differences between products. Some companies have an online product evaluation tool to assist you.
Warnings
Traditional fertilizers with weed control do not kill crabgrass. Fertilized grass requires heavy watering afterward. However, apply Weed & Feed to wet grass and do not water your lawn for at least 24 hours after application. Check your soil to see which nutrients it requires before applying a fertilizer like Turf Builder.
---
True Hunter began her career in public relations and higher education in 1998 writing for the "SVC Chronicle" and "Sage Alumnae Newsletter." Since that time, she has traveled extensively in Europe and the United States, writing about her travels along the way. She holds a a B.S. in communications from Southern Vermont College.