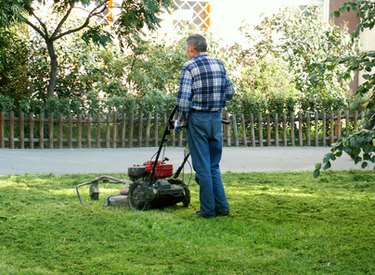 If you have a spare vertical-shaft lawn mower engine, you can adapt it to power all kinds of do-it-yourself projects. Most mower engines are in the 3-9 horsepower range, providing plenty of power for small projects. A vertical-shaft engine (as opposed to a horizontal shaft) presents a minor design challenge because most engine-driven projects use a horizontal input shaft. But a 90-degree gearbox can handle that. Save that engine and put it to good use.
Build a Generator
If you have access to a welder and some power tools, you can use that mower engine to drive an automotive alternator. A vehicle alternator can be mounted underneath a vertical shaft engine and will generate 12 volts of direct-current power that could be used to charge a vehicle battery or, with an inverter, power small 120-volt appliances. Vehicle alternators are a good choice because they have a built-in voltage regulator to control the power output.
Build a Go-Kart
Mower engines have enough power to drive a small, kid-sized go-kart. You'll need a 90-degree gearbox to drive the wheels off of a vertical shaft engine. But if you can find one, a small go-kart will scoot right along with a mower engine. Simple go-kart plans are available on line and 90-degree gears can be found through industrial supply companies at decent prices. You could also make use of a pair of bicycle sprockets and a loop of chain twisted 90 degrees. With the right set-up, this will work in place of a gearbox.
Water Pump
A small engine is perfect for powering a water pump. Pump assemblies are available through industrial supply catalogs and some can be used in a vertical drive configuration. Others need to be driven through a 90-degree gearbox to function properly. Mounting your engine and a two-inch trash pump together makes for a useful combination if you have to quickly move large amounts of water.
Outboard Motor
Small outboard motors for canoes or small dinghies are in the same horsepower range as a mower engine and are already set up for vertical drive engines. It's possible to mate a mower engine to the lower unit assembly of a broken outboard. The lower unit contains all the gearing, bearings and propeller mounting systems in one convenient package. All you need to do is attach your motor and fire it up. It won't set any speed records, but it's a fun way to recycle a broken piece of equipment.