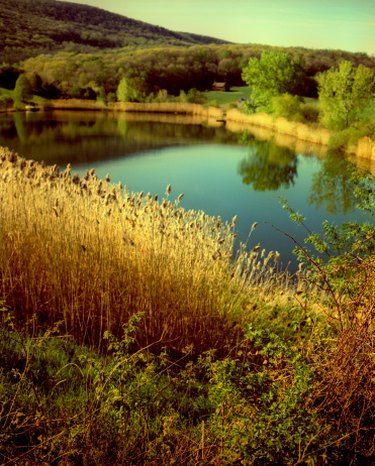 A trimmer is one of the attachments for the Ryobi Expand-it line of home and garden products. Other attachments include brush cutters and hedge trimmers. After a season's worth of use, the trimmer cutting line will probably need replacement. This two-line trimmer typically uses 0.080-inch diameter monofilament trimmer replacement line, which is available at most home-improvement stores. It also will accept 0.095-inch diameter trimmer replacement line for taking on tougher plants and small brush.
Step 1
Detach the trimmer attachment from the power unit to assure the unit will not operate while you restring the trimmer. Remove the bump knob cover to expose the inner reel. Remove the inner reel from the outer hub and discard any remaining trimmer line on the inner reel.
Step 2
Measure two 6-foot lengths of monofilament replacement line. Thread the ends of the two lines into the holes located on the inner spool and wind the cord in the direction noted by the arrows on the inner reel. Stop winding when there is 5 inches of trimmer line remaining.
Step 3
Insert the ends of the lines in the holes in the outer hub and place the inner reel in the hub. Snap the bump knob cover into place.