Tip
Wrapping your umbrella in its plastic case during winter storage will increase durability.
Warning
Be watchful for any wasp or hornet nests beneath the umbrella if you store it outdoors and do not regularly use it.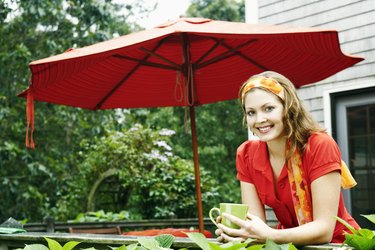 It's late afternoon and 85 degrees outside. No clouds in the sky. A light breeze. The next step in this picture of summertime bliss is to go outside and set up shop on your patio. Before you settle in, you'll have to open your patio umbrella, which can be a tricky task unless you know what you are doing. Thankfully, opening a patio umbrella usually involves operating a crank or pushing upward and should take about 30 seconds.
Step 1
Check that umbrella pole is firmly anchored in a weighted base beneath your patio table. Gently pull the ribs of the umbrella canopy outward away from the pole if your umbrella is one that does not have a crank.
Step 2
Push the umbrella rim up the umbrella pole slowly so the ribs begin to extend outward and the umbrella's fabric becomes taut. Avoiding pushing the umbrella rim upward if your umbrella has a crank. Turn crank clockwise to begin opening your umbrella.
Step 3
Continue pushing the umbrella rim upward until it is in a locked position, or continue turning the crank until your umbrella is fully deployed.