Tip
If designing a glass dining table, keep space in mind when choosing a size. According to wholesaler Factory Glass Direct, allow at least 26 inches from walls, and 24 to 28 inches of space for each chair. Leave 4 to 6 inches of space between chairs, and 12 to 14 inches of depth for leg room.
Keep table height in mind when choosing a base. Standard table heights are 16 to 20 inches for a coffee table, 18 to 22 inches for occasional tables, and 29 to 31 inches for a dining table.
Warning
To keep the glass from slipping, use a buffer between it and the base. Search hardware stores for felt pads or thin buttons of clear plastic made for this purpose.
Only use glass specially made for table tops, which will be thick enough, have polished edges and be tempered for safety. Tempered glass is 10 times stronger and breaks in very small pieces, rather than large, jagged ones.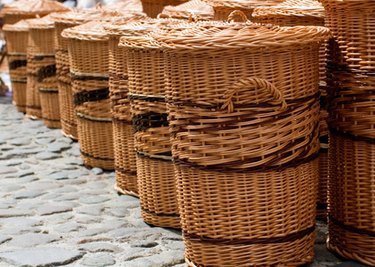 Making tables out of glass tops and decorative bases opens up a world of endless decorating possibilities. Just about any sturdy object can be used as a base, and glass tops can be ordered in shapes ranging from serpentine to kidney. When sizing glass table tops to bases, it's important to keep the elements proportionate to one another for reasons of safety, visual balance and overall aesthetics.
Step 1
Measure the base. If the base is wider at the bottom than at the top, use the bottom measurement. If the base is a circle, measure the diameter; then halve it to find the radius. If the base is a square or rectangle, measure its length and width.
Step 2
Find the area of the base. If it's a circle, the area is equal to pi times radius squared, so multiply 3.14 by the radius (the distance from the exact center of the circle to any point on the edge of the circle), then multiply by the radius again. For a square or rectangle, multiply length times width to get the area.
Step 3
Multiply the base area by 3 to get the maximum table top area you can use. Choose a glass top with an area no larger than this measurement, because the base must support at least one-third the area of the glass top. Find the area of a glass table top using the same methods as in Step 2. If the glass is an odd shape, such as kidney, measure the length and width at their longest points.
---
Jennifer Keigh is a professional technology journalist and wireless forum community leader who specializes in mobile operating systems. She holds a B.A. in English from the University of Wisconsin.