Indoor pool tables are designed to be placed in an interior space. That is, they usually must be kept in a covered, dry environment to prevent the pool table from deteriorating from weather, pests and mildew. For an outdoor space, the option of purchasing an outdoor pool table is available. The outdoor pool table is made of durable materials made to last through climate changes.
Indoor Pool Tables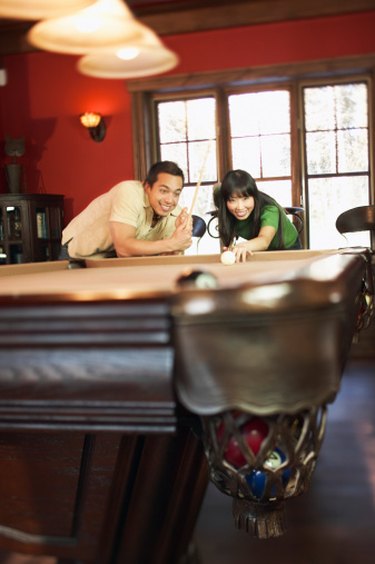 The traditional, indoor pool table is usually made of wood and felt, two materials that are not compatible with outside conditions. This truth combined with the fact that pool tables are not inexpensive, goes to show that it is not advisable to put your indoor pool table on a patio or anywhere else outside. If your patio is covered and if you live in a dry area with calm weather around room temperature, then you could possibly risk having your pool table outside during warmer months. However, it is very difficult to move indoor pool tables as they generally need to be leveled every time they are moved.
Outdoor Pool Tables
Those who want to bring indoor living outdoors have the option of an outdoor pool table. Many manufacturers are beginning to construct pool tables made of durable materials to withstand outside weather. The playing surface consists of two layers of PVC vinyl with a textured scrim surface.The tables are equipped with pockets that have drain holes for when it rains. The base is made of a metal material that will not rust. The table can even be kept outdoors during harsh winters by covering it with the special winter cover.