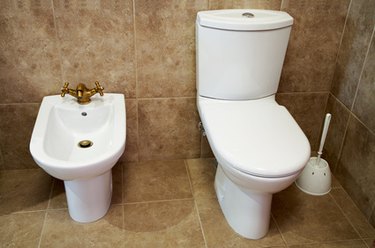 Toilet design has come a long way from the days when outhouses were the only option. Toilet seats have two basic parts. A top that covers the toilet and a seat that's contoured for comfort. Both parts connect to a hinge for easy cleaning. The seats come in a variety of colors and base materials including wood, steel, porcelain and plastic to accommodate decorating schemes. Designs differ with changes that appeal to individual tastes.
Basic Circular Seats
Circular seats are very traditional and used frequently for home bathrooms. The seat goes completely around without any gap in the front. Most circular toilet seats come in white, but contemporary designs also offer colored options and prints including florals.
Open Front
Open front toilet seats are common both in the home and in public restrooms. The seat looks like a U. There is some debate over why the U design developed. Some say it protects the toilet from drips during male urination, while others claim it safeguards people from spreading disease since the genitals do not touch that area.
Elongated
Elongated toilet seats appear most frequently in commercial settings. Elongated seats provide extra space and more sanitary conditions particularly when made in stainless steel. This seat style measures 18-20 inches from the front to the center of the bolt holes.
Other Options
There are many other types of toilet seats on the market. Raised toilet seats help individuals who suffer from conditions like arthritis, making it easier to get up from the seat. Padded toilet seats and heated seats offer comfort even during the winter, and seats with safety bars help people with physical challenges live more independently.