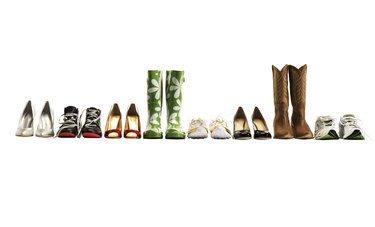 The Hemnes shoe cabinet from Ikea is a simple wooden cabinet that is available with either two or four convenient swing-out compartments. It is meant to be mounted to a wall and also has two front legs to allow for maximum stability and extra storage space under the cabinet. Since the Hemnes cabinets are sold as kits, you need to assemble the cabinet before you can mount it. Once you have assembled the frame, you mount the cabinet to the wall with two simple screws.
Step 1
Assemble the entire frame of the Hemnes cabinet according to the provided instructions. Do not install the swing-out shoe compartments or doors.
Step 2
Stand the cabinet frame flush against the wall to which you want to mount it. Locate the two mounting holes in the top horizontal board of the cabinet frame. Mark the holes by inserting a pencil or pen through each hole and making a dot on your wall.
Step 3
Drill a pilot hole into the wall at each dot.
Step 4
Insert the provided raised-head mounting screws into the holes in the top horizontal board. Affix the cabinet to the wall by tightening the screws with a flat-head screwdriver until you can no longer turn them. Do not force the screws.