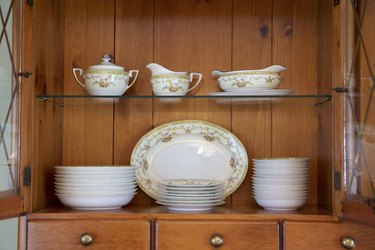 A china cabinet and hutch are often mistaken for each other in descriptions of these similar furniture types, but a china cabinet does not a hutch make. Each piece of furniture has different functions, and while you can display your treasured items inside a hutch that has glass-encased cabinets, a hutch has other functions as well.
China Cabinets
Designed and built to protect and display formal dinnerware and flatware, china cabinets are so named because of the fine porcelain dinnerware invented and perfected by the Chinese more than a thousand years ago. Set up in a formal dining area or the living room, the glass-paneled wood-framed doors offer multiple display shelves for showing off family heirloom Noritake gold-rimmed Italian Rose china, Royal Albert English china or contemporary Bjorn Windblad Rosenthal Studio china.
The Hutch
The hutch, on the other hand, is a multipurpose piece of furniture that can be used almost anywhere in the house. Hutches typically have a freestanding unit that contains cabinets, a display case, or both, that sits atop its bottom half, which is what differentiates it from a china cabinet, which is made in one piece. The hutch's lower half has a countertop, cabinets or drawers. You can find china hutches -- different from china cabinets -- kitchen hutches and the buffet hutch.
Formal Displays
Some people never use the china they display in their china cabinet, especially if they are collectors. When the china is used often, the cabinet is typically found inside a formal dining room. Families who use the china inside the cabinet typically save it for special occasions or holiday gatherings. Along with the china, you may also find crystal glasses reserved for those special events.
Early Hutches
The 18th and early 19th century hutches originally consisted of a tabletop set onto a base, which vertically pivoted to become the back of a settee or chair. This allowed the table to swing out of the way when it was not in use, especially when used in a multifunctional room. Some hutches even contained built-in desks with an area cutout for a chair. In the United Kingdom, china hutches are typically referred to as a Welsh dresser.