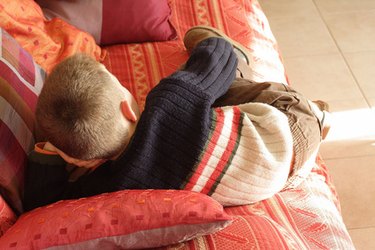 If living quarters are small, finding a way to make large pieces of furniture do double duty is important. There are many convertible sleeping options available, ranging from futons to sleeper couches. Turning a bed into a couch is a simple and relatively inexpensive option for anyone with space or budgetary limitations. Beds that double as couches during the day offer easy cleaning and design flexibility. These convertible beds have the added benefit of supreme lounging comfort.
Selecting the Bedding
Step 1
Choose an appropriate comforter that is durable and does not scream "bed linen." Avoid deeply quilted comforters or fabric that has a silky feel. Silks and satin fabrics are slick and would cause the whole arrangement to slide around too much. Go with plain, tailored looks and fabrics such as twill, corduroy, canvas or duck cloth. Microsuede is another good choice.
Step 2
Purchase large, sturdy pillows that will make a sound foundation for the back of the convertible couch in a fabric that matches or coordinates with the comforter. Large buddy pillows that measure around 36 inches square are a good choice. Coordinate the color of these pillows with the color of the comforter.
Step 3
Buy accent pillows that provide extra cushioning while also complementing the look of the convertible couch. Select cylinder pillows that are firmly stuffed and covered with a durable fabric since these will function as arms for the sofa.
Step 4
Select a bed skirt in a coordinating color that is tailored with simple lines and very few pleats. This will make the bed look more like a couch. Avoid frilly, ruffly bed skirts or skirts made out of lace or silk.
Converting the Bed Into a Couch
Step 1
Move the bed so that one of the longer sides is pushed against the wall.
Step 2
Put the tailored bed skirt on the bed.
Step 3
Spread the comforter smoothly and evenly across the mattress. Tuck in the ends and sides of the comforter beneath the mattress.
Step 4
Place the large square pillows on top of the bed against the wall to form the back of the couch.
Step 5
Center and attach 30 inches of hook-and-loop tape on the bottom side of the cylinder pillows.
Step 6
Place the cylinder pillows on top of the bedspread at the head and foot of the bed to serve as couch arms. Adhere 30 inches of hook-and-loop tape directly to the bedspread at the head and the foot of the bed so that this tape corresponds with the tape that is on the bottom of the cylinder pillows. The tape will hold the arms of the couch in place securely and help to keep the entire pillow arrangement contained.
Step 7
Add the accent pillows at various spot in front of the large square pillows.