Things You'll Need
Paper bag

Iron

Blow dryer
Tip
Use a cotton cloth as an alternative to a paper bag.
Warning
Don't overheat the leather with the iron or blow dryer. Overheating can cause discoloration.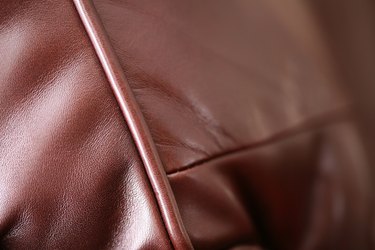 Wrinkles and creases interrupt the smooth look of leather furniture, and can reflect badly on the room's overall decor. If wrinkles are not removed from the leather, they will often set in and turn into worn creases. Creases often makes leather furniture look older and worn, reducing its value. Two common household appliances will help smooth the wrinkles out of your leather couch.
Step 1
Cut or tear away a piece of a brown paper bag. The piece should be large enough to cover the wrinkles on the leather couch.
Step 2
Place the paper bag over the wrinkles.
Step 3
Turn the iron on to a low temperature setting.
Step 4
Place an iron on top of the paper bag. Move the iron back and forth over the wrinkles. Don't use steam.
Step 5
Run hot air over the wrinkles on the leather couch with a blow dryer, if they persist.
---
Si Kingston has been an online content contributor since 2004, with work appearing on websites such as MadeMan. She is a professional screenwriter and young-adult novelist and was awarded the Marion-Hood Boesworth Award for Young Fiction in 2008. Kingston holds a Bachelor of Arts in English from Mills College.