When redecorating a room, furniture is one of the first and easiest ways to make a statement or create a fresh look. For the consummate DIYer, the desire to refresh your sofa's aesthetic poses unique challenges, however. It makes sense to want a new sofa; after all, it's where many of us spend most of our free time. If you've handled all the other details of your new room, from the walls to the cabinets, you may want to try your hand at making a DIY couch, and doing it yourself means that you can get exactly what you want in terms of the size, shape and color.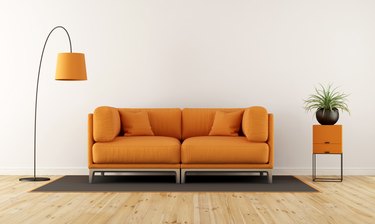 Basic Sofa Construction
Before you begin getting your hands dirty, it is important to know what goes into the construction of a good sofa. Quality furniture tends to have mortise (also known as mortice) and tenon joints. This sort of joint connects to pieces of wood at a 90-degree angle. If you've already been working with wood, it's very likely that you've created these particular joints for other projects.
Another cornerstone of good craftsmanship is corner blocks. Corner blocks are simple wooden blocks cut as a right triangle. When done correctly, these blocks reinforce the mortise and tenon joints. Without the corner blocks, you run the risk of wobbly furniture that may break within a year or two.
Sofa Cushions and Springs
You will also need to get springs that will support your cushions. Most sofas use serpentine or sinuous springs. When picking out yours, it is important to keep in mind the size of the people who will be using the furniture, how often it will get used and what size your cushions will be. The best springs are set close together and are a robust enough gauge to withstand the stress the sofa will endure.
Don't forget about the sofa's cushions when you're planning your furniture. Higher-density foam lasts longer, but it can feel too firm to some people.
In contrast, lower-density foam doesn't last as long, but it is softer to the touch. You can even use polyester fiber or down in your cushions. Typically, a mix of high-density foam wrapped in low-density foam will do the trick, but any combination will do.
Sofa Upholstery Considerations
From a design perspective, the most important part of a sofa is its upholstery. The general rule of thumb is to select a durable fabric, but microfiber imitation suede is also extremely popular as a sofa covering. Leather is also still a popular option. Regardless of what you pick, it is a good idea to get samples you can physically compare to other pieces in the room where the sofa will live to make certain it's the look you want before you purchase fabric.
Designing a DIY Couch
Design choices are the main reason that most people choose to DIY their sofa or to DIY a loveseat. When you're doing the build, however, you can do whatever you want, however you want. There's a great deal of freedom in the realization that your furniture can be just how you'd like it.
For people who are professional builders, this process is a familiar one. If you don't make a living drafting plans, this could be intimidating. The good news for hobby DIYers is that there are a lot of nice plans and designs already drawn up and waiting for you on the internet.
Careful Measurement Is Essential
After the plans are finalized, and you have gathered all of your materials, make sure that you measure everything one final time before construction. This includes measuring the space in which your sofa will sit and the items that you have to build the sofa. As the old saying goes, measure twice and cut once.
If you haven't drawn the plans yourself, make sure you have all the required tools and follow the steps as they are outlined for you. With some minor variations, the process for building a couch involves framing it, adding box springs or mesh, putting cushions down and covering them in fabric.
Building a Couch
After you're sure of everything, the fun part begins: construction. It is advised that you measure one last time before cutting your wooden frame. It is important to line up your wood carefully if using a table saw or other electric power tool. As you cut, keep even pressure on the wood and move only as quickly as you are comfortable.
Cut all of your wood before you begin construction. This will help you to avoid errors as you assemble the furniture.
Sofa Joints and Corners
As you build, be sure to reinforce any corners with which you will be working. Your joints need to fit together tightly at 90-degree angles at the base. After your joints are placed, a corner block can help make sure that your sofa doesn't have any play that might cause wobbling.
The corner blocks should be gently hammered into place and should fit snugly. It is ideal to then screw in these corner blocks, even though they look like they won't come loose. You don't want to have to take your couch apart if you accidentally stub your toe on a corner.
Fixing a Sagging Couch
If your couch has a sag in it, you don't have to spend money on a new one or suffer through uncomfortable seating. Instead, you can solve your problem with plywood. To complete the fix, it is advised that you use thicker plywood, not particle board or thin sheets of plywood. If you can get it up to ¾-inch thick, that is optimal, as it will fix your sag and last through wear and tear.
To get started, you need to remove the cushions to measure the inside of your couch's frame. You will want to have the plywood sitting on the frame itself, not simply on top of your box springs or mesh. Measure from side to side and front to back. If you are worried about the plywood sticking out of your couch, you can use the width and depth of your couch cushions as a guide, since they should be able to sit on your plywood the same way that they fit on a frame.
Plywood to Support a Couch
Before you cut a large sheet of plywood by yourself, it is a good idea to ask if any hardware or wood supply stores are able to do this for you. Many hardware stores offer this service for a small convenience fee. Regardless of where the board is cut, once it's ready, you need to get it onto your couch.
Slide your plywood into place, making sure that it touches the frame and all the supports snugly. From there, replace your cushions and check to make sure that you cannot see the plywood from under the cushions. Once that's taken care of, sit down slowly on your couch. If the plywood is thick enough, you should not feel it moving or shifting under your weight.
Building Furniture From Scratch
People who are accustomed to woodworking are at a distinct advantage when it comes to building any wooden furniture. This doesn't mean that you have to be a professional carpenter to take on the project, however.
The first step in building furniture from scratch is to visualize what you want for the piece. How much room do you have? What sort of design makes you happy and fits with your decor? If you're unsure, check online to see if any ideas out there strike your fancy.
Sourcing Your Materials
After you've visualized your project, you need to source your materials. Local hardware stores are likely to have or be able to order almost everything you need. Some of them even offer advice on your project. Assuming you got everything you need, including tools, all that you have to do next is build.
In most cases, you begin your project by framing everything. Prepare all of your materials and cut and frame everything before you begin assembly. This will help to reduce the likelihood of errors down the line.
Building a Sofa Bar Table
Sofa bar tables are an excellent way to use otherwise "dead space" in your home. The area behind the couch is always a tricky place to decorate. Some people want more seating space for movie night, and others may just want the extra room for entertaining or for having a meal "at the table."
When you're building your own sofa bar table, you will begin much the same way as when you build any other piece of furniture. Looking online for ideas can help you avoid mistakes that other hobby builders have made. It is also a great way to ask questions or find out if anyone has any tips that you haven't thought of. If you're unsure of what will work best, ask an expert. Many hardware stores offer some consultation on your projects for a fee or even for free.
Sealing a Bar Table
When you are finished with your build, remember the importance of sealant. No project is done if it is left unfinished, after all. Sanding down everything first will serve two purposes. First, you will reduce the risk of splinters. Second, you will have a smooth surface to cover with sealant.
After all, a bar table may be subject to spills, dings or stains. It's important to provide the wood with a protective coat to ensure the longevity of the project on which you have worked so hard to complete.
Designing a Sofa Side Table
People are creatures of habit. We take the same routes to work, sit in the same places and generally enjoy routine. Sometimes, the place you've picked to sit is missing something, but you don't wish to find a new seat. The addition of a sofa side table can easily solve this problem.
These tables can be easily made by even novice carpenters. Side tables can be simple builds or can have artistic embellishment depending on the builder's skill level. The simplest design of all has just four legs, is braced on the bottom and has a simple top.
Construction of a Side Table
To complete this task, you need to attach legs at a 90-degree angle and then brace those legs at the bottom. Unlike with heavy-wear furniture like sofas, you need only reinforce the legs at the bottom or on the way down from the tabletop.
Depending on your preference, you can either add more shelving or use wood the same width as your legs to brace the legs at the bottom of your table. When you do it this way, you can leave one end of the bottom open so the table can be positioned partially under the sofa.