Tip
Some sectional couches may use a dowel system that you may not be able to remove.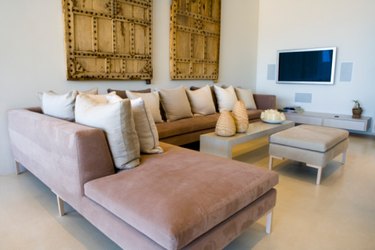 Couches that come in two, connected pieces are called sectionals. Sectionals can take up large areas of a room, depending on the size and location in the room. For a different look, you may want to separate the sectional. However, sectional units may have hardware, such as a connector assembly, that will need to be removed.
Separate the Pieces
Step 1
Pull the sectional away from the wall and find where the two pieces of the sectional are connected.
Step 2
Lift up on the end of one section where it is connected to the other section. The L-bracket will then detach from the connector plate.
Step 3
Pull the two sections of the couch apart at least 6 inches.
Remove Connector Assembly
Step 1
Take the cushions off of each section of couch. Turn each section of the couch so the back is positioned on the floor.
Step 2
Locate the L-bracket on one of the couch sections. Remove the screws securing the plate with the power drill. Take off the L-bracket and set it aside.
Step 3
Locate the connector plate on the other section of the couch. Turn the connector plate 180 degrees to point it in the opposite direction. Remove the two outside screws and take the connector plate off.
Step 4
Set the two sections of the couch upright and replace the cushions.