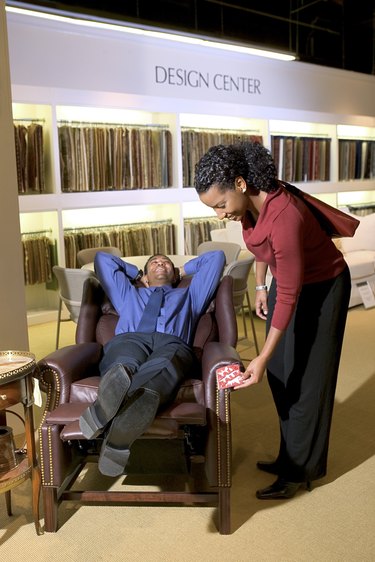 There is no need to throw out your favorite leather recliner when the leather becomes worn or torn. You can reupholster it instead and save $100s off the cost of a new chair. While leather provides ease of care not found in fabric, you can choose a different material and even add extra padding during the chair's makeover.
Self Reupholster
Typically, repairing a leather recliner requires replacing the padding and the leather, but the framework and recliner mechanism does not need repair, so you can reupholster the chair yourself. Take the old leather off carefully and use it as a pattern for your new leather. Draw diagrams as you remove the material to assist you when you recover the chair. Staple the new leather to the frame after laying the padding, being careful to staple to new places on the frame to prevent the staples from pulling out easily.
Professional Reupholsterer
If you are not up to the task of reupholstering your recliner yourself, you can hire a reupholsterer to do the job for you. Seek a professional skilled in leather upholstery and receive an estimate before signing the contract. While reupholstering your recliner is typically less expensive than purchasing a new chair, it can still be expensive. Ask friends for recommendations and shop around to find the best-qualified professional for your needs.
Fabric
You do not have to choose leather as the fabric for your reupholstery job. If your decorating themes changed, you can select a different fabric, such as cloth or engineered micro suede. If you are reupholstering the chair yourself, keep in mind the amount of wear the chair receives and select a durable upholstery fabric. If your fabric has a pattern, you must purchase extra fabric to ensure proper matching. If you do not have experience reupholstering furniture, selecting a solid color ensures that you only have to keep the material running the same direction.
Time
Even if you hire a professional, reupholstering a recliner can take some time to finish. Make sure to receive an estimate of the time involved along with the price. Depending on the complexity of the job, completion can take up to a month.