Select Comfort beds make of the most popular beds on the market, including its Sleep Number mattress. Unlike a standard mattress, which relies on coils for their degree of firmness, a Sleep Number mattress uses air pressure, which allows for more customization. As they are mechanical, Sleep Number beds occasionally need replacement parts to operate efficiently. When it's time to replace yours, there are a few steps you can take.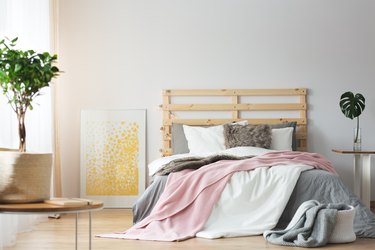 Locate Your Paperwork
If you're the original owner of the Sleep Number bed, have your proof of purchase ready before placing an order. You warranty will tell you what's covered and what's not.
Determine the Replacement Part Needed
If it's not an obvious part that needs repair, like a remote or mattress cover, you'll need to do a little sleuthing. Take a look at your owner's manual to familiarize yourself with the parts of your bed and identify them. In the case of lesser known parts, like air hoses or connectors, make sure you're replacing the right item first.
How to Contact a Select Comfort Sleep Professional
To order the part needed, visit sleepnumber.com. Scroll to the bottom to see the contact page. Click on "Contact Us" to access the area that gives you the option of either talking to a representative via live chat or speaking to one by phone at 1-877-770-5475.
Talking to a Representative
Ask your customer service person any question you may have about the part and how it works before placing your order. He can tell if the part is still under warranty and how much it will cost if it isn't. From there, he will place your order and ship it promptly. In some instances, you may also be asked to return the original part to Select Comfort.
Checking the Status of Your Order
To see when your order will arrive, go to sleepnumber.com/order-status and track your part by placing your order number and zip code in the designated fields.
After Your Part Arrives
Make sure the part you receive is the one you ordered. If it is, you can find how-to articles and videos for installing most parts on sleepnumber.com. If you don't find what you need, contact customer service. Select Comfort also has installation services that are available for an additional fee.
If the part wasn't what you were looking for, you can return it. Call customer service to request an authorized Return Service Order (RSO) before sending the part back. To be refunded, minus shipping and delivery fees, Select Comfort must receive the item within 30 days, and it must be in good condition.